France: Wild boars dead amid algae on Brittany coast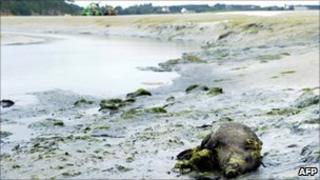 More than 30 dead wild boars have been found on the coast of north-western France this month amid suspicion of algae poisoning, officials say.
The carcasses, found in the water or on the shore, have led to fears about the risk from the algae to humans.
Three more boars were found on Wednesday near the mouth of the Gouessant estuary in Brittany, bringing the total to 31.
A nearby beach, which is covered by piles of the algae, has been closed.
Some beaches in Brittany are regularly hit by the algae, but the problem appears to have worsened in recent years.
Environmentalists and officials say it is a result of the nitrates in fertilisers used by the region's farmers.
In 2009 a horse-rider was rendered unconscious and his mount died after slipping on the algae, apparently after inhaling toxic gas released by the rotting seaweed.
'Not drowned'
Gilles Buet, a Brittany water official, said the reason for the boars' deaths was still unknown.
"One of the theories we have is that the animals could have drunk water that could contain algae," Mr Buet told AFP news agency.
Local police official Philippe De Gestas said they were doing autopsies on some of the carcasses, as well as testing for hydrogen sulphide, a poisonous gas given off by the algae as they decompose.
"They were not [otherwise] sick and they did not drown," he said.
Tests on the water show a level of blue-green algae "above the alert level but below the danger level", local authorities said in a statement.
Thousands of tonnes have already been cleared from the coast this year.