Norway attacks: Utoeya rescuer describes shock of survivors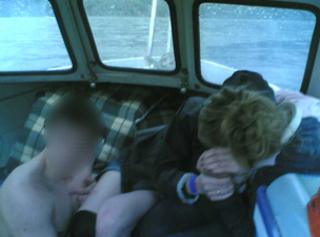 When Anders Behring Breivik began shooting people at a youth camp on Utoeya island on 22 July, some of the first people to help were those living on the lakeshore who had boats.
Kasper Ilaug told the BBC's Chris Morris that he was in his cottage watching the Tour de France on television when a friend called and told him to go quickly on his boat to the island - but didn't tell him exactly what was happening.
Kasper Ilaug: "I saw some youth on the shore waving to me, I started to address them. I went in there at a slow pace and organised first the movement of, I believe, the first 12 of the group.
I had to ask the guy holding the boat to stay back. He was a little reluctant. I promised him I would come back...
They were terrified. They were in shock. On the way in one girl started crying and she asked are you a policeman?
I said no, I'm just a local native living [here] and she looked relieved and she told me that police came on the island and started shooting us.
On the way back I tried to address some people lying behind the rocks and said I can come back for you later. And then I tried to address the police to look into [them].
They did, but I realised pretty soon that those people were deceased."
Chris Morris: You called out to them but they didn't move, they didn't reply?
Kasper Ilaug: "Yes. Because they were dead. Yes, I realised that after a while.
And then soon I realised sitting out there with this red helmet and this yellow jacket that I was a sitting duck actually.
But I considered that and I thought to myself that first of all I made a promise to the youngsters, and you just have to keep those thoughts out of your head... and have the objectives clear and focused.
So I went out there and picked them up again. And I believe, maybe come three more.
And I went in to the shore again and I returned out for another one further out and I had some contact with a local - similar to me. I believe they had some seriously injured people on board. And they told me there were people further out in the lake.
My objective was to move those people I saw on the shore to the mainland.
Those three or four came in the boat and there were four more in the woods. I told them you have to move fast, this boat is going now.
They understood that and they jumped in the boat and I went in to shore and delivered the youngsters safely there.
We made a report that we were there and I was out of it."
Chris Morris: Four days later? Looking back does it feel like a dream, a nightmare? Does it feel real even?
Kasper Ilaug: "I have to admit I had some problems coping with the reality of this but I understand that all those people active out there - we made a difference.
We helped between 50-100 young people to come in safety ashore.
I have to work on this - probably I will realise this after. But the importance is that we did the best we could."