Norway: Police ponder new Anders Behring Breivik charge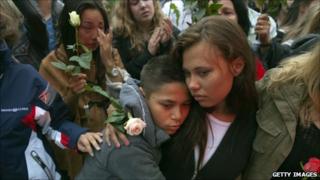 Norwegian police are considering charging the man who admitted killing 76 people in Friday's attacks with crimes against humanity, prosecutor Christian Hatlo has said.
Anders Behring Breivik is currently facing terror-related charges carrying a maximum 21-year sentence.
If convicted of crimes against humanity he could receive a 30-year sentence, Mr Hatlo told the Aftenposten newspaper.
The defence lawyer says the case indicates his client is insane.
However the lawyer, Geir Lippestad, told reporters that it was too early to decide what line of defence would be chosen.
He said Mr Breivik believed he was in a war and that he would be vindicated in 60 years' time.
Naming victims
Prosecutor Christian Hatlo told Aftenposten that a new charge of crimes against humanity, which could be brought under a 2008 law, was currently only "a possibility".
Police spokesman Sturla Henreiksboe told AFP news agency: "Police have so far cited... the law on terrorism but seeking other charges has not been excluded."
Later on Tuesday, police are due to formally release the names of the victims.
Meanwhile Norwegian Justice Minister Knut Storberget has praised the "fantastic" work done by police.
"I had the opportunity to thank police in Oslo and other districts and other organs," he told reporters after talks with Oslo's police chief.
The praise comes despite criticism in the media that officers were slow to respond to the shooting on Utoeya island, where most of the victims died following a bombing in the capital.
"It is very important that we have an open and critical approach," Mr Storberget said, "but there is a time for everything."
On Monday, Mr Breivik, a right-wing Christian extremist, appeared in court to face charges of destabilising vital functions of society, including government, and causing serious fear in the population.
He accepted responsibility for the attacks but denied the terrorism charges.
Judge Kim Heger ruled that the hearing should be held behind closed doors on the grounds Mr Breivik might have used it to send signals to accomplices.
Mr Hatlo said Mr Breivik claimed he had worked in a cell, or group, and that there were two other cells working with him.
Although police sources say other groups are unlikely, Mr Hatlo said he "cannot completely, and I stress completely, rule out that others were involved in what happened".
Mr Breivik was remanded in custody for eight weeks, the first four in full isolation.
He said his operation had not been aimed at killing as many people as possible but that he wanted to create the greatest loss possible to Norway's governing Labour Party, which he accused of failing the country on immigration.
Torchlit processions to remember the victims were held in towns and cities across Norway late on Monday.
Up to 250,000 people poured on to the streets of the capital, many of them raising up flowers in memory of the eight people killed in the Oslo blast and the 68 who died at a youth camp on Utoeya.
Prime Minister Jens Stoltenberg told crowds in Oslo: "By taking part, you are saying a resounding 'yes' to democracy."
The bomb in Oslo targeted buildings connected to the Labour Party government, and the youth camp on Utoeya island was also run by the party.
In addition to those killed, at least 96 people were injured in the attacks.