Greece taxi strike hits tourists on Crete and Corfu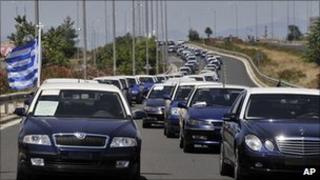 A port blockade by striking taxi drivers in Greece has disrupted travel for hundreds of tourists on the holiday islands of Crete and Corfu.
The action prevented tourists on several cruise ships from boarding buses waiting for them on Corfu and at Heraklion port in Crete.
The taxi drivers, whose protest began on Monday, object to the government's plan to liberalise their sector.
In Brussels the EU is negotiating a second bail-out package for Greece.
The Greek taxi drivers are against a new liberalisation law - part of the conditions for Greece's current bail-out loan - and want to keep limits on the number of taxi licences that can be issued.
Taxis also disrupted road traffic at the airports in Heraklion and the capital Athens, though flights were not affected.
The government is targeting 135 professions, including taxi services, for reform as it battles to make the economy more competitive and reduce the country's debt mountain.
On Wednesday angry taxi drivers clashed with police outside the transport ministry. They hurled stones and water bottles and the police responded with tear gas.
Tourism accounts for 16% of Greece's total economic output (GDP) and is vital for the country's planned recovery.
In May 2010 a joint EU-International Monetary Fund rescue package was agreed for Greece, worth 110bn euros ($156bn; £97bn).
But Greece's debt woes have worsened and now a package of similar size - also with strict conditions for Greece to fulfil - is being negotiated.