Serbia holds Croatia war crimes suspect Goran Hadzic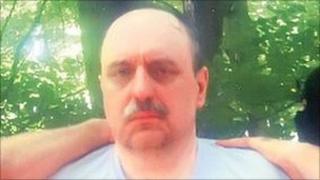 Serbian authorities have arrested Goran Hadzic, the last remaining fugitive war crimes suspect sought by the UN tribunal for the former Yugoslavia.
Mr Hadzic, now 52, led Serb separatist forces during Croatia's 1991-1995 war.
Within hours of the arrest, a Serbian court approved his extradition to the Hague. He has been charged with the murder of hundreds of non-Serbs.
The arrest comes less than two months after Serbia caught former Bosnian Serb military commander Ratko Mladic.
Serbian President Boris Tadic confirmed Mr Hadzic's arrest at a news conference.
He said the suspect had been detained early on Wednesday in the mountainous Fruska Gora region, north of Belgrade, near his family home. He had always been presumed to be hiding there, the BBC's Mark Lowen reports from Belgrade.
Stolen Modigliani
Officials say Mr Hadzic was picked up as he met a man delivering him money in a forest, the Associated Press news agency reports.
He later appeared before the war crimes court in Belgrade, which approved his extradition to The Hague.
His lawyer told AFP news agency he would not appeal against his transfer - which is expected to take up to eight days.
Gen Mladic was arrested on 26 May and flown to the tribunal on 31 May.
Serbian prosecutor Vladimir Vukcevic said the breakthrough in the hunt for Mr Hadzic came when he tried to sell a stolen painting by Italian artist Amedeo Modigliani.
"He was penniless," Mr Vukcevik said. "He probably got (the painting) during the war in Croatia."
Mr Hadzic went into hiding seven years ago, shortly after the sealed indictment against him was delivered to the government in Belgrade.
He was a central figure in the self-proclaimed Serb republic of Krajina in 1992-1993, leading the campaign to block Croatia's independence from Yugoslavia.
European congratulations
Mr Hadzic faces 14 counts of war crimes and crimes against humanity, including persecution, extermination, and torture.
He is held responsible for the massacre of almost 300 men in Vukovar in 1991 by Croatian Serb troops and for the deportation of 20,000 people from the town after it was captured.
President Tadic insisted that Serbian investigators had been "working very hard in the past three years" to capture Mr Hadzic.
Our correspondent says the Hadzic case was seen as the last big obstacle to Serbia gaining EU candidate status and a start date for accession talks. There was a $1.4m (£870,000) reward offered for his capture.
EU leaders said the arrest was "a further important step for Serbia in realising its European perspective and equally crucial for international justice".
"Following the capture of Ratko Mladic, this arrest sends a positive signal to the European Union and to Serbia's neighbours, but most of all on the rule of law in Serbia itself," the leaders said in a statement.
It was issued by EU Commission President Jose Manuel Barroso, European Council President Herman Van Rompuy and EU foreign policy chief Baroness Ashton.
Mr Hadzic lived openly in the northern Serbian city of Novi Sad until 13 July 2004, when he fled because of the indictment against him, Reuters news agency reports.
For years the prosecutors in The Hague complained that Belgrade was not doing enough to track down top war crimes suspects including Mr Hadzic, and that criticism delayed progress in Serbia's EU bid.

Delic, a Bosniak (Bosnian Muslim), was commander at the Celebici prison camp where Serb prisoners were held in 1992. Convicted of wilful killings, torture, causing great suffering or serious injury and inhuman treatment.
Played a lead role in the 1995 attack on Srebrenica. Knew senior members of the Bosnian Serb Army had "genocidal" plans for the Bosniak population. Convicted of aiding and abetting genocide, murder and persecution.
Leader of a notorious Serb paramilitary group, the Tigers. Believed to be responsible for killing at least 76 non-Serbs in Bosnia's Sanski Most area in 1995. He was killed in Belgrade in 2000 before being brought to trial.
As President of Serbia and later President of the Federal Republic of Yugoslavia, Milosevic was indicted for war crimes against non-Serbs in Croatia, Bosnia and Herzegovina and Kosovo. He died four years into his trial.
Operational commander of Croatia's "Operation Storm" to regain control of the Krajina region. Thousands of Serbs fled the area, others were removed or murdered. Convicted of crimes including persecution, deportation and murder.
The Bosnian Serb leader is accused of war crimes such as genocide and persecution of Bosniaks and Croats, including the Srebrenica massacre and the siege of Sarajevo. He was captured in 2008, living in disguise.
The Bosnian Serb Army commander is the latest suspect to be captured. He is accused of 11 counts of genocide, hostage-taking and other war crimes between 1992 and 1995, including the atrocities at Srebrenica and Sarajevo.
The Croatian Serb is the last indictee to be captured. Accused of the ethnic cleansing of Croats from the majority-Serb Croatian region of Krajina and the murder of civilians between 1991 and 1992.
The Hague tribunal has indicted 161 people for war crimes committed during the conflicts in the Balkans, the majority of them Serbs. Fifteen trials involving 35 defendants are still underway.
BACK
{current} of {total}
NEXT