Ivo Sanader, Croatia's ex-PM, extradited from Austria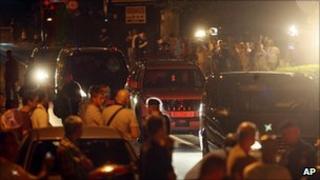 Croatia has put its former Prime Minister Ivo Sanader behind bars after his night-time extradition from Austria.
He is due to be questioned this week over allegations of corruption and abuse of power.
He was driven across the Croatian border in a silver Mercedes van under police escort, Reuters reported.
Mr Sanader, 57, denies any wrongdoing, and says the charges are politically motivated. He was in power in 2004-09.
He was arrested in Austria in December, on a Croatian arrest warrant, a day after Croatia had lifted his immunity from prosecution.
There are suspicions that Mr Sanader diverted state budget money into a secret slush fund for his conservative Croatian Democratic Union (HDZ).
Croatia has been cracking down on corruption, under pressure from the European Union, which it will join in July 2013.
Mr Sanader suddenly stepped down in July 2009, taking Croats by surprise.
He claims the legal proceedings have been initiated by his political enemies.
Correspondents say the case could prove difficult for his former HDZ party colleagues, as they prepare for a general election in December.