Baltic fury over Austria's release of ex-Soviet officer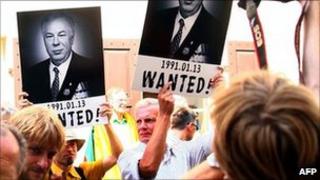 Latvia has joined its neighbour Lithuania in condemning Austria's release of a former Soviet officer wanted over a bloody crackdown in 1991.
Latvia summoned Austria's ambassador in Riga and demanded an explanation.
Police arrested Mikhail Golovatov, 62, at Vienna's Schwechat airport last Thursday. The former commander of elite Soviet Alpha troops, wanted in Lithuania, was released the next day.
Austria says it acted correctly under the European Arrest Warrant rules.
Defending the release, Austrian Foreign Minister Michael Spindelegger said the information supplied by Lithuania in the Golovatov case was "too vague".
Lithuania wants to put Mr Golovatov on trial for the Soviet assault on a Vilnius television tower in January 1991, in which 14 civilians died and hundreds were injured.
The Soviet crackdown was aimed at breaking up a pro-independence demonstration in the Lithuanian capital.
Escalation to EU level
Latvia says its foreign minister and those of its Baltic neighbours Lithuania and Estonia have sent a joint letter to EU Justice Commissioner Viviane Reding complaining about Austria's move.
"The decision to release Golovatov impairs the effectiveness of international legal co-operation in criminal cases and lessens the significance of the EU solidarity principle for the member states," the letter said.
"Though we understand the principle of judicial independence, we are still concerned about the speed at which the Austrian authorities decided to release the individual."
On Monday, Lithuania recalled its ambassador from Vienna and threatened to take Austria to the EU's top court over the affair - the European Court of Justice.
The three Baltic states, incorporated into the Soviet Union in 1940, achieved independence after the abortive coup by Soviet hardliners in August 1991.