Mallorca Chuetas are of Jewish descent, rabbi says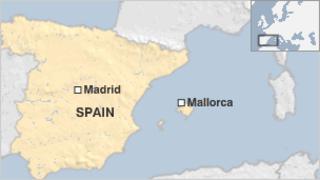 A senior Israeli rabbi has ruled that a group of residents of the Spanish island of Mallorca are of Jewish descent, reports say.
The Chuetas, of Palma de Mallorca, descended from Jewish inhabitants on the island who were forced to convert to Christianity 600 years ago.
Many can trace their heritage back to ancestors killed during the 17th Century for practising Judaism.
A rabbi was sent to the island to look at community members' family trees.
It was found that the group of 20,000 people had remained close-knit. Many have one of 15 distinct Chueta family names.
"Since it has become clear that it is accepted among them [the Chuetas] that throughout the generations most of them married among themselves, then all those who are related to the former generations are Jews," Hareidi Rabbi Nissim Karelitz wrote, according to the Jerusalem Post.
The Chuetas - whose name comes from the Catalan word for pig - suffered extreme oppression in the Middle Ages.
By 1435, all of them had been killed or had converted to Catholicism under duress.
Despite converting, many were not allowed to marry Catholics or adopt certain professions for many years.