Turkey: Fenerbahce boss remanded on match-fix charge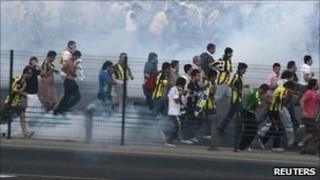 The chairman of the leading Turkish football team Fenerbahce has been remanded in custody on charges of match-fixing.
Aziz Yildirim is among 26 people, including other Fenerbahce executives, to face trial over 19 suspect matches.
Supporters went on the rampage outside the courthouse in Istanbul, and across town near the club's stadium.
Police arrested 61 people last weekend in a massive investigation of match-fixing across the country.
When news emerged from court of the jailings, fans who had gathered in support of Mr Yildirim turned their anger on journalists and television crews covering the case.
And on the other, Asian side of the Bosphorus strait, there were angry protests by hundreds more supporters in the Fenerbahce neighbourhood.
The Turkish Prime Minister Tayyip Erdogan defended the court ruling.
"I am a Fenerbahce supporter too. We should all welcome the outcome of an issue that has been taken to court," Mr Erdogan told the NTV news channel.
Aziz Yildirim had been taken for medical treatment, complaining of heart trouble, earlier in the week. Now he is in Istanbul's Metris prison.
He is the most prominent figure in a scandal that has engulfed many prominent figures in Turkish football, including players and other leading clubs.
In their preliminary assessment, the police said they believe the result in 19 matches are suspect.
Decision on Friday
Fenerbahce pipped Trabzonspor to the league title with a final day 4-3 win at Sivasspor.
Fenerbahce were at one point a long way back in the league but the Istanbul club won 16 of their last 17 games to take their 18th title on goal difference.
Mr Yildirim has not commented publicly, but Fenerbahce issued a statement on Saturday saying: "We do not believe the accusations that have been made against the president and directors."
Fenerbahce vice-president Sekip Mosturoglu and financial chief Tamer Yelkovan have also been remanded to face trial, as have the chairman and goalkeeper of Sivasspor.
Police have released around half of those arrested in the dramatic raids last Sunday, though it is possible they may still face charges.
Turkish media have speculated that the allegations being investigated include a striker being offered money to not score, a goalkeeper deliberately failing to save a goal, and the selection of a particular referee.
The Turkish football authorities say they will make a decision by Friday on the fate of Fenerbahce.
Friday is the deadline for notification to Uefa of Turkey's representatives in European club competitions.
Penalties could range from stripping Fenerbahce of the league title to relegating them.