Pamplona bull run: Why is it a thrill?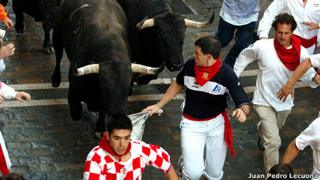 Last year a 650kg (1,430-pound) bull in Pamplona plunged a horn as thick as a man's arm through Juan Pedro Lecuona's leg.
It was his first goring in 22 years of running at the San Fermin festival in northern Spain, but it did not put him off. He is a local man.
The week-long bull run began again on Thursday and Mr Lecuona is out there again - among a few specialist "athletes" who run directly ahead of the bulls, defying death.
"I like the nobility of these animals, so heavy and beautiful," he told BBC Mundo.
"When I run, all is confusion and I am driven by instinct. You become a mixture of stomach, heart and mind. You want the bull to be impressive, to charge so that there's risk and excitement."
The race stretches for about a kilometre (about half a mile), down Pamplona's Estafeta Street, during which some 3,000 daredevils scatter on seeing the size of the animals. At the end, only 100 or so remain - the veterans and some brave tourists.
"Many people are emboldened by alcohol but end up blocked, getting urinated on or even running towards the animals, which is crazy," Mr Lecuona says.
"You also see some impressive horns but you cannot stop. You are at the mercy of the bulls, the corridors and the barriers."
The bull festival is opposed by animal rights activists but draws thousands of tourists to Pamplona every year.
"There is no special preparation," says Mr Lecuona. "Everyone does it their own way, physically or mentally. I play football with my kids or go swimming with them."
In a century, 15 deaths and hundreds of injuries have been recorded, although the tradition dates back 200 years.
It all started when butchers began running ahead of the bulls they were bringing from the countryside to the San Fermin festival. Previously they ran behind the cattle.
Bull runners' 'World Cup'
Toni Moreno from Valencia says San Fermin is "like the World Cup for bull runners, like bullfighting at Las Ventas", a major arena in Madrid.
The tradition in Valencia is to run ahead of bulls that are tied to a rope.
"It's different, the risk is tempered, because the bulls have been rounded up, they have already experienced festivals," Mr Moreno says.
"The San Fermin bulls are huge, beautiful. The ones from Miura cattle farm have horns like grappling irons.
"When they come out they display their horns as if they know how strong they are," he explains.
This year he is not sure if he will run at San Fermin. "My wife is pregnant and has asked me not to run, but you still get the desire to do it," he admits.
Meanwhile, Mr Lecuona's four children could not stop him.
"They always wait for me, with my wife, in the Plaza de Toros [bullring]. They ask me not to run, but when they see me I think they're happy with what I've done," he says. Except for the day when he was gored.
"It was a 22cm (8.6 inch) wound. I had not prepared well that year. I had had knee surgery and had dispensed with crutches only three days before the bull run."
"I've had seven stitches on my chin, two broken ribs, a shard of glass got stuck in me," he says with a certain pride.
Bollywood recently hired him as a double to shoot a movie during the San Fermin festival starring Hrithik Roshan, considered the Brad Pitt of India.
"Sometimes people ask me what I fear. I fear lots of things, but above all Osasuna [football team] getting relegated to the second division," he says.