Jail terms over death of Chad leader's son Brahim Deby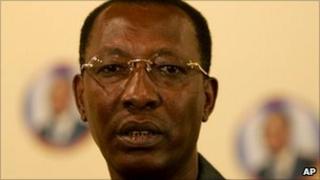 A French court has jailed four men over an attack in which the son of Chadian President Idriss Deby died near Paris in 2007.
The four were found guilty of "robbery leading to death without intention to kill". They received prison sentences ranging from five to 13 years.
Brahim Deby was found dead in the car park of his block of flats.
The 27-year-old had choked to death after being sprayed with chemicals from a fire extinguisher.
Brahim Deby was attacked as he was returning from a nightclub to his home in Courbevoie, west of Paris, in July 2007.
Police said he had consumed illegal drugs and alcohol that evening.
His attackers seized 50,000 euros (£45,000) from his pocket and searched his flat, according to police.
His killing was not regarded as politically motivated.
Brahim Deby was sacked as an adviser to his father in 2006, following a conviction for drugs and weapons possession in France.