Europe in the people's interest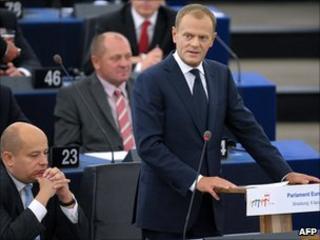 The European Parliament - eager to expand its influence - has had a headline-catching week. Why? Because it has focused largely on what matters to people, to the consumer.
Food labelling, which has often seemed deliberately opaque, will now have to reveal sugar, salt levels, fat, saturated fat - and here's the key - in a way that makes them easy for consumers to read.
The food industry may yet find a way around these new rules, but as Labour MEP Glenis Willmott said: "For the first time it will be mandatory to include information on how much sugar, salt, fat and other key nutrients a product contains."
And then there are moves to stop drivers sending text messages while at the wheel. Surely a smart move.
And the headline grabber: lower costs for using mobile phones abroad. There will be a new price cap for data roaming. Numerous travellers have been outraged to receive bills for hundreds of euros, having downloaded data while moving around Europe.
Users will be able to switch to different providers while travelling. Price caps on calls and SMS texting will continue, but will decline after 2012. EU Commissioner Neelie Kroes said "operators currently enjoy outrageous profit margins."
As Scottish National Party MEP Ian Hudghton said, it "represents a victory for consumers".
Scottish Labour MEP Catherine Stihler also warned mobile companies not to try to use the proposals as an excuse to drive up prices for other services.
And, largely unreported, there was the free trade agreement between South Korea and the EU. It is a landmark deal and is expected to boost trade by 20% or upwards of £15bn a year.
Polish perspective
I have cited these examples - rather randomly - because of a conversation in Brussels which ranged over when the EU is at its most effective and when it isn't.
Which brings me to Donald Tusk's speech to the European Parliament at the start of Poland's presidency of the Council. Rightly the Polish prime minister referred to one of Europe's outstanding achievements: acting as a beacon for democracy in Eastern Europe.
Later in his speech he said: "I am convinced that the answer to the crisis is more Europe, more European integration, and this calls for strong European institutions. "
He did not explain why - it was more an assertion of belief. What was strange about the speech was what it did not mention. The greatest crisis facing Europe is slow growth and high unemployment: 24 million people are out of work.
Youth unemployment is leading to a lost generation in Italy, Spain, Portugal, Greece and the Republic of Ireland. It is open to debate, but firing up Europe's mainly low-growth economies might require a less-regulated Europe, not more.
The speech played well with officials in Brussels. In response the President of the Commission, Jose Manuel Barroso, chimed in "that we need more Europe, a better Europe, that in many areas we need more solidarity, more cohesion, more commitment to the common good."
Defending 'more Europe'
It is a feature of the EU that its officials approach every issue, every problem on the basis of whether it deepens integration. That is not, I suspect, where the people are coming from. Their agenda and interest is often different.
An example was a recent comment from German Socialist MEP Martin Schulz. He was addressing the issue that some countries were wanting to restrict the free movement of people enshrined in the Schengen agreement.
"Recent moves," he said, "to reintroduce border controls have nothing to do with organised crime, but a lot with upcoming election campaigns. Freedom of movement is a cornerstone of the European project".
What was interesting was that he saw the fact that it was an election issue as a negative, rather than perhaps reflecting the will of the people. Certainly free movement in Europe has been popular, but it might just be that the opinion of the voters has shifted.
And that was the point made to me in my Brussels conversation. Europe is at its strongest when it reflects the agenda of the people and at its weakest when it focuses on expanding its reach and institutions.