Irish rhino horn racket uncovered by Europol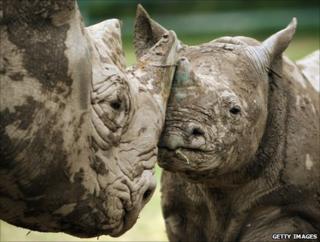 Europol says it has uncovered an Irish organised crime group illegally trading rhino horn worth tens of thousands of euros as far afield as China.
The EU's police agency said it had gathered intelligence and evidence against the group, which was "known to use intimidation and violence".
The agency said it was working with Irish police and had drawn up an action plan to tackle the illegal trade.
More than 200 of the endangered animals were killed in South Africa last year.
There is a high demand for rhino horn, which is a prized ingredient in traditional Chinese medicine and is also used for decoration and to produce luxury goods.
Depending on the size and quality, a horn can be worth between 25,000 (£22,000; $36,000) and 200,000 euros, according to Europol.
'Significant players'
"Significant players within this area of crime have been identified as an Irish and ethnically Irish organised criminal group," the agency said on Thursday.
To obtain the horns, the group targeted antique dealers, auction houses, art galleries, museums, private collections and zoos, "resorting to theft and aggravated burglary where necessary".
International auction houses had been "exploited" in the UK, France, USA and China, Europol said.
The same group was also involved in other serious crime across the EU such as drug-trafficking, organised robbery, distribution of counterfeit products and money-laundering.
Its activities had also been monitored in North and Latin America, South Africa, China and Australia.
Europol and Irish police recommended launching dedicated investigations in each country involved and alerting potential targets "of possible visits to defraud or attack them for their specimens".