Georgia arrests three photojournalists for spying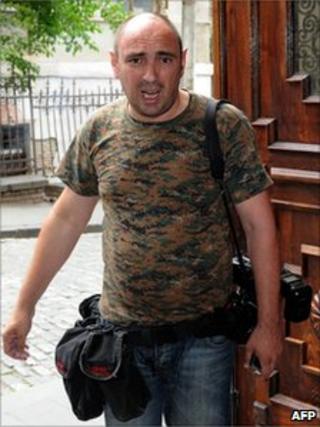 The Georgian authorities have arrested three photojournalists, including President Mikheil Saakashvili's own photographer, on suspicion of spying.
The interior ministry said they were accused of working for an unnamed foreign intelligence service against the interests of Georgia.
Journalists protested against the arrests in the capital Tbilisi.
It is the first time journalists have been accused of spying in Georgia, a BBC correspondent says.
A statement on the interior ministry's website named the detainees as presidential photographer Irakli Gedenidze, Zurab Kurtsikidze of the European Pressphoto Agency (EPA) and Georgian foreign ministry photographer Georgy Abdaladze.
Mr Gedenidze's wife Natia was also arrested, the ministry said. An investigation is under way, it added.
Associated Press photographer Shakh Aivazov was also detained but released after several hours without being charged, the agency said.
The photographers were arrested early on Thursday morning in their homes.
Relatives of the detainees say plain-clothed policemen turned up unannounced and confiscated cameras and computers.
Georgia's pro-Western president has been in power since 2004, after a popular uprising against his predecessor Eduard Shevardnadze.
Mr Saakashvili has been criticised in recent years for the heavy-handed tactics of his security forces in suppressing street protests against his rule.
The country has suffered continuing economic problems.
Established photographer
A rally by journalists supporting the detainees has been taking place outside the interior ministry building in Tbilisi where they are being held.
Some held pictures comparing Mr Saakashvili to Belarusian President Alexander Lukashenko, who has drawn international for repressing his opponents since his disputed re-election in December.
Ramaz Chinchaladze, lawyer for Mr Abdaladze, visited him in custody and said he was in good health.
Mr Kurtsikidze's lawyer, Nino Andriashvili, told Reuters: "He is in quite a difficult emotional state because he does not understand the charges and does not accept that he is guilty."
Mr Gedenidze has been employed by President Saakashvili since 2006, according to Georgian news website onlinenews.ge.
His photos were regularly acquired for sale by foreign news agencies.