Hundreds arrested in Belarus at anti-Lukashenko rallies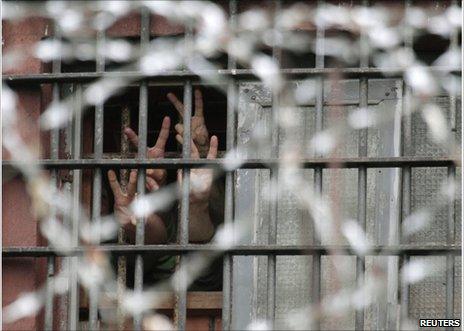 Hundreds of people have been arrested across Belarus, where security forces pounced on people protesting against President Alexander Lukashenko.
Journalists witnessed demonstrators being beaten and manhandled around the capital Minsk on Wednesday, and other cities and towns also saw a crackdown.
Silent protests have been taking place regularly over the past month.
Mr Lukashenko has vowed to repress opposition protests as the country reels from an economic crisis.
A balance of payments crisis has gripped the country's command economy, leading to a 36% devaluation of the local currency (the rouble) and inflation.
President Lukashenko's authoritarian 16-year rule has led to sanctions by Western governments while the country's chief ally, Russia, has attached tough privatisation conditions to an expected bail-out worth $1.2bn (£700m; 800m euros).
A Belarusian police source quoted by Russian news agency Ria-Novosti on Thursday did not give arrest figures for Minsk, but said "about 400" people had been detained in other parts of the country, including Vitebsk and Mogilev.
The source added that some of the detainees would be charged with "administrative violations", while others would simply be released.
The human rights group Vesna was quoted by the Russian news agency Interfax as saying 380 people had been arrested on Wednesday, 190 of them in Minsk.
People had turned up in at least eight different parts of Minsk in response to calls on social networking sites for demonstrations at which protesters clap their hands but are otherwise silent.
In some instances they found security forces waiting for them, ready to bundle them away before they had time to rally.
"The authorities have adopted a new tactic - now the arrests begin before the protest starts," Valentin Stefanovich, a spokesman for Vesna told the Associated Press news agency.
An AP reporter saw about 20 police in civilian clothes jump out of a bus and set upon a group of five young people, knocking them to the ground before punching and kicking them, prior to making arrests.
In the city of Grodno, about 500 people assembled on the central square and engaged in a few minutes of hand-clapping before police dispersed them, the agency says.
A number of journalists were among those arrested on Wednesday.
Related Internet Links
The BBC is not responsible for the content of external sites.