German parliament to debate sale of 200 tanks to Saudis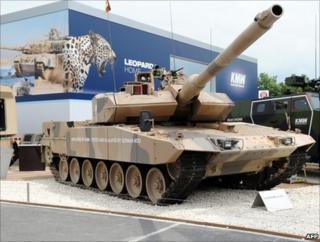 Parliament in Germany is to debate secret plans to sell Saudi Arabia 200 tanks despite a standing policy of not selling arms to repressive states.
News of the deal was leaked on Sunday by Germany's Spiegel magazine and confirmed by security sources in the Saudi capital, Riyadh.
German opposition parties are concerned that Saudi Arabia has been supporting the crackdown on unrest in Bahrain.
Germany's defence minister has refused to comment on the "classified" issue.
But opposition MPs say they will demand answers from the ruling coalition.
"At some point the government is going to have to give up its veil of secrecy and come clean," said Juergen Trittin, parliamentary floor leader for the Green Party.
"Just try to keep it secret when you start delivering multi-tonne tanks to Saudi Arabia."
It is believed that the Saudis wish to buy 200 Leopard II main battle tanks.
The Leopard II is used by Germany and many other Nato states, and has served in Kosovo and Afghanistan.
Saudi Arabia already has about 1,000 main battle tanks of US or French manufacture.
The kingdom's armour was last most visible in March when it sent armoured cars into neighbouring Bahrain, in a controversial move to back its rulers as they put down a popular uprising.
According to Reuters, the Saudis have been eager to buy German tanks for the last 30 years but were until now turned down.
Reports say Germany consulted with the US and Israel before the tank deal was agreed.
"Normally you'd expect at least Israel would object if Saudi Arabia got a delivery of tanks," said Joachim Hoerster, a member of Chancellor Angela Merkel's Christian Democrat party and Arabic affairs expert.
"That was always the case in the past and that's why no [German] arms went there before. But the geo-political situation in the Middle East has evidently changed so much that Israel has no comment on all this - and that speaks volumes by itself."
Gernot Erler, deputy leader of the opposition Social Democrat parliamentary party, accused Mrs Merkel's government of a "frightening lack of judgment".
Such a policy demonstrated that Chancellor Merkel and Foreign Minister Guido Westerwelle only paid "lip service to supporting democratic movements in the Arab world", he said in the Welt newspaper.
Speaking before the expected debate, the chairman of the FDP - the Christian Democrats' liberal junior partner in government - defended Mrs Merkel.
"I'm sure she has carefully weighed all aspects of the decision," Rainer Bruederle was quoted as saying by German news agency DPA.