Mladic to boycott Hague tribunal hearing, says lawyer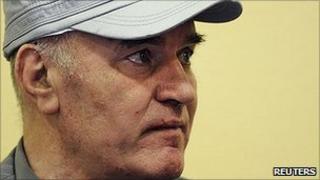 Ex-Bosnian Serb army head Ratko Mladic will boycott a hearing at The Hague war crimes tribunal where he is due to enter pleas, his lawyer said.
Milos Saljic said Gen Mladic would not take part in Monday's proceedings as his defence team has not been approved.
Gen Mladic appeared before the court on 3 June and declined to plead then on what he called 11 "obnoxious" charges.
He is charged with crimes including genocide in connection with the 1992-95 Bosnian war.
"Mladic has told the prison authorities that he does not want to appear in the courtroom (on Monday) and will not enter a plea," Mr Saljic told AFP news agency.
"He decided not to reappear as his defence team has not yet been approved."
The tribunal has asked for more time to vet the lawyers Gen Mladic, 69, has submitted. Mr Saljic said that his client wants him and a Russian lawyer.
Court-appointed lawyer Aleksandar Aleksic - who represented Gen Mladic at his first hearing - is due to represent him on Monday.
Mr Saljic said that if Gen Mladic "is forced" to attend Monday's hearing against his will "he will certainly not enter his pleas".
According to court rules, if defendants refuse to enter pleas they are automatically registered as entering not guilty pleas by the judges.
It is believed to be unlikely that the court will force Gen Mladic to attend the hearing.
Court spokeswoman Nerma Jelacic said the tribunal was not aware of any planned boycott "so preparations for tomorrow are ongoing as planned".
She said that Gen Mladic had been "behaving normally" in detention.
"He is allowed to spend his time like any other detainee... as he wishes, whether in communal activities with the other detainees or receiving visits," she added.
At his previous hearing, Gen Mladic said he had been "defending my people and my country". He also said he was "gravely ill".
Gen Mladic was extradited to the Netherlands from Serbia on 31 May after being captured following 15 years as a fugitive.
He is charged in connection with the massacre of about 7,500 people in Srebrenica - Europe's worst atrocity since World War II.
Gen Mladic is also charged over the 44-month siege of the Bosnian capital Sarajevo from May 1992 in which 10,000 people died.