Belarus: Silent protests frighten regime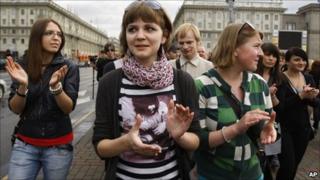 Sergei does not look like a typical opposition activist. A thin 20-year-old, he speaks in a quiet voice and is sometimes lost for words.
But when the KGB comes calling to your door - it must mean someone is afraid of you.
A month ago the plain-clothed "specialists" visited Sergei's flat in the Belarusian capital, Minsk, and took his computer. They were after the passwords for a social network group he had created.
"They tried to delete the group," he tells the BBC. "They didn't realise you can't simply erase things like this."
Sergei, his computer and the social network group are all part of a new type of protest, which is making the Belarusian authorities very nervous.
Those authorities have been quick to stamp on any challenge to the regime of President Alexander Lukashenko, who has been in power since 1994 and has been described by the US as the "last dictator in Europe".
Following the victory awarded to Mr Lukashenko in December's election - widely condemned as fraudulent - the authorities have jailed opposition members and cracked down on any sign of dissent.
No slogans
Even so, every Wednesday since late May, thousands of people have come out onto the main squares of Belarusian cities, responding to rallying calls spread via Facebook and its Russian-language version VKontakte.
The gatherings are strictly non-verbal: shouting slogans will certainly land you in the back of a police van. Little by little a universal code developed - now people just clap, every two or three minutes. Otherwise, it is silent.
Sergei recalls an old Soviet joke. "It's about a guy who stands near the Kremlin handing out leaflets. When police arrest him, they see that the leaflets are blank. 'Well, the guy says, everyone knows what's wrong, there's no need to write it down'."
Everyone knows what the organised silence is all about, says Sergei. "People want change and they come out to show this."
According to Sergei, the silent gatherings break all the rules of previous opposition rallies. There are no organisers to arrest. And, unlike in the past, they are everywhere, not only in the capital.
In June, dozens of cities saw these gatherings. In one village 10 people showed up. The entire village police force - nine officers - came to control them.
In Minsk, on Wednesday police were out in their thousands. But this show of force did not deter the protesters. Not even a loud disco, set up by the authorities on the main square, could drown the sound of applause.
Muscled men
It all happened suddenly. At exactly 1900 the crowd, milling about on the edges of the square, condensed. The first, tentative clapping started.
Minutes later, the crowd started walking. Immediately, muscled men in sportswear, with curled wire sticking out of their ears, moved too.
Suddenly, and at random they started grabbing people and dragged them violently to the unmarked buses which followed the procession.
Journalists who tried to film the arrests were punched or thrown to the ground. The BBC's own cameraman bore the brunt of the enforcers' ire.
People screamed, the crowd tried to grab its members back. One young woman was thrown head first on the steps of the bus. She managed to break free.
Others were less lucky. Human rights observers counted at least three busloads of people arrested.
At such a march a week ago, more than 450 people were detained. Most were released without charge, but often with a heavy fine. The social networks responded with a donation scheme to help pay their penalties.
In the absence of any independent polling it is hard to tell how many Belarusians share the protesters' views.
Yuri Chausov, a political analyst in Minsk, suggests that the ability of the gatherings to undermine Mr Lukashenko's rule may have been overestimated.
But that is not to say they will have no effect.
The rallies "should be seen as a symptom and as a good way of fighting fear", he says.
Economic stimulus
But real change will come only when the hitherto indifferent working class starts raising its voice, he says.
According to some accounts, this is already happening on major state-owned Belarusian plants, with workers staging silent protests when their salaries are not paid on time.
"This is something Belarus hasn't seen since the mid-90s," says Mr Chausov.
And economic crisis might spur much more popular discontent. Since spring, the national currency has lost 60% of its value - but while prices have shot up, wages remain the same. Many state-owned firms are short of cash and, according to some reports, have started to delay payments.
Even the state energy company failed to find enough hard currency to pay the $20m (£13m) bill for Russian electricity, prompting the Russian company to cut supplies.
That's a familiar experience for citizens in Minsk, who try to buy dollars, euros or even Russian roubles at currency exchange kiosks, to try to protect their savings, sometimes waiting a day or two.
It is those people who, according to internet activist Sergei, will join the protest in the next few weeks.
"Not many people care that there are political prisoners in Belarus, but economics touches everyone, and it's the state of the economy which will drive people out on the streets."