Belarusian 'silent rally' protesters rounded up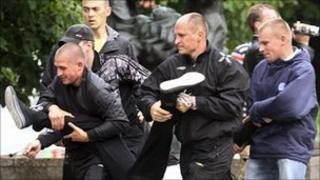 Belarusian police have arrested at least 100 people holding a "silent rally" against the government in the capital, Minsk, activists say.
About 3,000 people gathered near the square to demonstrate by standing together clapping their hands.
A BBC reporter in Minsk says protesters were violently rounded up and some journalists were attacked.
It is the fourth such protest in recent weeks against President Alexander Lukashenko and his economic policies.
The BBC's Oleg Boldyrev in Minsk says officials organised a disco in the main square in Minsk to try to block the protest, so demonstrators gathered in the area around the square despite torrential rain.
Shortly afterwards, plain-clothes police began to pick out protesters and dragged them violently away into a number of unmarked buses, he reports.
Some journalists were attacked, though not arrested. A BBC cameraman was wrestled to the ground by police.
The organisers of recent protests call themselves "the revolution via social network".
They have begun to demonstrate as the economic crisis in Belarus has worsened.
There has been panic buying as the country's currency has plummeted in value, and the government is seeking billions of dollars in loans from the International Monetary Fund and from Russia.
After Mr Lukashenko was voted in for a fourth term in December, authorities launched a crackdown on election-night protests.