French journalists freed in Afghanistan after 18 months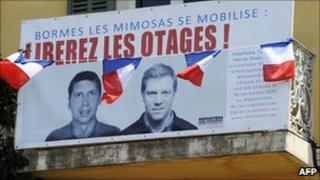 Two French journalists abducted in Afghanistan 18 months ago have been released, French President Nicolas Sarkozy has announced.
Herve Ghesquiere and Stephane Taponier were freed along with their interpreter, Reza Din, Mr Sarkozy said in a statement in Paris.
They are reportedly now at a French base in north-eastern Afghanistan.
Expressing delight, Mr Sarkozy thanked Afghan President Hamid Karzai for his handling of the hostage situation.
Prime Minister Francois Fillon told the French parliament the freed Frenchmen were at the Tagab base in Kapisa province.
They were "in good health" and would be back on French soil "in a few hours", he said.
There was no immediate word about two other Afghans who were abducted along with the three men released.
The Frenchmen, who were working for France 3 television, were abducted on 30 December 2009 in Kapisa, about 60km (37 miles) from the Afghan capital, Kabul.
They were kidnapped by Taliban insurgents, AFP news agency reports.
The first anniversary of their abduction was marked by vigils in France, where their photos were projected on to the Arc de Triomphe in Paris.
Campaigning group Reporters Without Borders had called on President Sarkozy to make their case a "national priority".