Hitler Vinnitsa bunker: Ukraine museum plans draw anger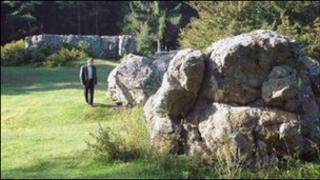 Plans in Ukraine to open a museum at the ruins of a bunker used by Hitler during World War II have provoked concerns it could become a shrine for neo-Nazis.
The decision by local authorities in the central city of Vinnitsa to turn the site of the Wehrwolf bunker into a tourist attraction has caused so much controversy that President Viktor Yanukovych requested on a recent visit to Vinnitsa that the matter be settled in a local referendum.
Originally, the museum had been due to open in May to coincide with the commemoration of victory over the Nazis.
But communist and socialist party activists opposed the idea, arguing that the creation of such a museum would be tantamount to spreading Nazi propaganda.
According to Lydia Zakusylova, who chairs the regional Communist Party: "Even before, with just a road sign pointing to the location of the Wehrwolf, neo-Nazis were flocking to the site.
"We had to mobilise the police, the local authorities and party members to stop them."
Mass grave
One proposal for the museum, she said, had some alarming features.
"Initially, there were suggestions to restore wartime dug-outs for PoWs," she told the BBC.
"But there were also plans to exhibit uniforms and flags of the officers and men of the Reich.
"They wanted to offer tourists the chance to try on uniforms, hang sub machine-guns around their necks and pose for pictures with Nazi flags in the background. This is blatant Nazi propaganda."
An official at the local Vinnitsa Museum, Kateryna Vysotska, acknowledged that such suggestions had been put forward by local collectors, but said they had been turned down.
She vehemently denied - following dozens of complaints from war veterans - that a "Nazi museum" was being set up.
In fact, Ms Vysotska said, the future museum will be a historical memorial to victims of Nazism, and will encompass a mass grave for those who died.
More than 10,000 PoWs and local civilians who built Hitler's bunker were shot by the Nazis and are buried there, she said.
Local villagers were enlisted to dig trenches and clear out the woods. Even children were not spared hard work, felling trees.
"We met veterans and I told them that Hitler's bunker has become a tourist attraction irrespective of their wishes," she said.
"Visitors will keep coming and it would be better if our museum staff conduct proper guided tours."
Opposition to the future museum came not only from leftist politicians but from local villagers, who are reluctant to lose land where cattle now graze and children play.
Unexplored bunkers
The former bunker is about 8km (five miles) outside Vinnitsa. It was built as a military headquarters for the Eastern Front.
Construction of the bunker started in 1941 and finished in April, 1942. In March 1944, retreating Germans blew it up.
The Wehrwolf was a smaller version of the Wolf's Lair, Hitler's fortified headquarters in Eastern Prussia.
It had its own power generating facility, an airfield, a swimming pool and a water supply.
There were 81 wooden houses above ground and three fortified bunkers underground, including the main one, with walls 2.5m (8ft) thick. These bunkers as yet have not been explored.
A pile of stones and the remains of the swimming pool are all that can be seen above ground.