Deal brings new EU patents system closer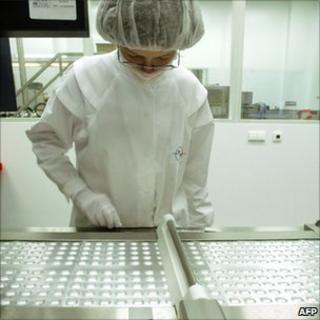 All but two of the EU's 27 member states have agreed to set up a common European patent system that could mean big savings for hundreds of firms.
Currently European patents can cost ten times more than patents registered in the US because of translation costs.
A fast-track procedure is being used to make the common patent a reality, but there is still a big legal obstacle.
Italy and Spain fear discrimination because patents would be filed only in English, French or German.
The two countries have lodged a legal challenge with the EU's top court, the European Court of Justice (ECJ), arguing that the new enhanced co-operation procedure should not be used to bring in the patent system.
The procedure, which came in with the Lisbon Treaty, allows a group of countries to go ahead with EU legislation even when not all 27 member states agree.
It has not been used before for EU single market issues, and Italy and Spain consider its use to be illegal in an area as sensitive as patents.
Legality questioned
In March the ECJ, based in Luxembourg, raised a separate objection to the common patent plan. It warned that the planned new European Patent Court would infringe EU law.
According to the ECJ, the court as envisaged would be above national courts in patent cases that could affect many EU citizens. It would be outside the EU's judicial framework but would rule on matters affecting the EU, the ECJ said in a legal opinion.
Despite the legal wrangling, 25 governments represented in the EU's Competitiveness Council gave the go-ahead on Monday to begin formal talks with the European Parliament and EU Commission on setting up a common patent system.
The UK's Intellectual Property Minister, Baroness Wilcox, said a breakthrough on patents was "crucial for UK industry".
"It is vital to offer businesses the same access to patent protection in their home market of Europe as competitors in the US, China and Japan enjoy in theirs," she said.
"A unitary patent and court system will save businesses time and money... The savings to UK business are likely to be around £20m per year in translation costs alone."
For about a decade, efforts to get an EU-wide agreement on patents have been blocked by language disputes and the lack of unanimity.
Single market priority
Hungary's Minister for Economic Strategy, Zoltan Csefalvay, said the new agreement sent a clear signal that "the EU is able to deliver on a topic of such crucial importance for European innovation and competitiveness".
He called the current fragmented patent system an "innovation tax" on European enterprises.
The EU Internal Market Commissioner, Michel Barnier, said the enhanced co-operation procedure still left the door open for Italy and Spain to join the other EU states in embracing a new patent system.
He insisted that the fast-track procedure was legal because "European treaties envisage it for cases where there is no other mechanism or option".
The Association for Competitive Technology (ACT), a grouping of European technology firms, welcomed the ministers' agreement.
ACT president Jonathan Zuck said "strong intellectual property protection is essential if the European Union wants to remain competitive and achieve even greater innovation".
"A fragmented and over-complicated patent system does not have a place in today's market - Spain and Italy should be pragmatic."