Extremists and gangsters - good meeting for bad company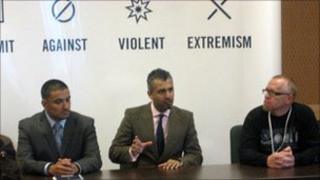 Paul Carrillo is probably not the sort of guy you would want to mess with.
Stocky and tattooed, his well-cut suit is somewhat at odds with his dark and dangerous past.
Mr Carrillo was a senior member of a violent Hispanic gang in south-central Los Angeles.
When he decided to leave, it took him two years, and beatings.
"What it means to be a gang member in LA is that you have to represent whatever gang you're from everyday, 24 hours a day, seven days a week," he says.
"If you come in to contact with an enemy you have to engage that person. If you have weapons on you, or within reach of you, you have to use them and the mission - or the goal - is to terminate the enemy by any means possible."
Mr Carrillo is today a reformed man, spreading the message that - in most cases - joining these violent gangs can have only two outcomes, prison or death.
He is one of more than 90 "formers" - the term for reformed gangsters, guerrillas, and Islamist fanatics - who have come together in Dublin to meet victims of the violence they once embraced.
Acts of violence
The Summit Against Violent Extremism is co-sponsored by Google Ideas, US think tank Council on Foreign Relations and the Tribeca Film Festival.
Google's executive chairman Eric Schmidt says he is convinced the more information people have at their fingertips about the outside world, the less vulnerable they become to being brainwashed into committing acts of violence.
"Because of the internet you have much more social interaction, much more communication both good and bad, what we would like to see is people who are being forced into something, who don't have a choice, who are uneducated, we would like them to have more choices," says Mr Schmidt.
"To actually be exposed to some new ideas, and maybe this is not the only choice, maybe the choice that their friends are doing is not the only choice, to insert some doubt in the certitude of a 15-year-old."
Messianic conviction
In other words, if one day all teenagers in, for example, the tribal territories of Waziristan had their own 3G mobile phone with full internet access, they would be more aware of their options and less likely to be talked into strapping on a suicide vest.
Mr Schmidt admits the internet and new technology have also been huge enablers for terrorism - although videos directly inciting violence are removed from YouTube within minutes, he adds.
But he has an almost messianic conviction that new technology can eventually help prevent angry young men from drifting into a life of violence and extremism.
One of those who helped bring together such an extraordinary gathering is Maajid Nawaz.
A former extremist in the UK branch of Hizb-ut-Tahrir and now a de-radicaliser with the Quilliam Foundation, Mr Nawaz spent years in an Egyptian jail, then emerged convinced he had taken the wrong path.
He now believes there is a perverse commonality between Islamist extremists and right-wing gangs.
'Five shots in the back'
"I didn't imagine sharing a panel with a former neo-Nazi, because, of course, I joined the group I did, Hizb-ut-Tahrir, at 16 after being chased in the streets by [the right-wing extremist group] Combat 18, and being stabbed." says Mr Nawaz.
"What we've come to realise is those two extremes - far-right fascism and Islamist extremism - have a symbiotic relationship, where they mutually reinforce the other's very generalised view of the other, and they feed off each other's propaganda."
Not everybody at this forum in Dublin has escaped their past physically unscathed.
I spot a young Hispanic American in a wheelchair similar to mine and we get talking. Eric Gibson used to be in the LA gang, the Bloods.
Like me, he survived multiple gunshot wounds, but it was seeing an innocent child get killed that shocked him into leaving.
"It was a drive-by and I was standing outside the car, and he was in a car driving by," the former gang member says.
"The car slowed down and he leaned his hand all the way out, he was real close to me. He just started firing the gun. The first shot hit the little girl. She was 13 years old. And I caught the other five shots in the back."
And what of those who never had any part in violence, but have found themselves unwittingly caught up in it?
Gill Hicks lost both her legs in the bomb attacks in London on 7 July 2005. Now a campaigner for reconciliation and understanding, she is visibly upbeat about this forum to exchange ideas and come up with solutions.
"This is very very encouraging that we've got a global company, a cyber-based internet company, that has brought people together physically, and that's the really interesting part of this process, because of the power of standing together, looking each other in the eye, and shaking hands," says Ms Hicks.
"And then we go back to our respective places and we get on with our work, but we've got the reassurance that somewhere in the world, someone else is doing exactly the same thing."
This summit against violent extremism is obviously not going to be a panacea for gang violence or terrorism.
But it is a start, the germ of a new network of anti-extremists, backed by a media organisation, Google, whose chairman has promised this will not be just a one-off event.