Ukraine: Tymoshenko on trial in Kiev for abuse of power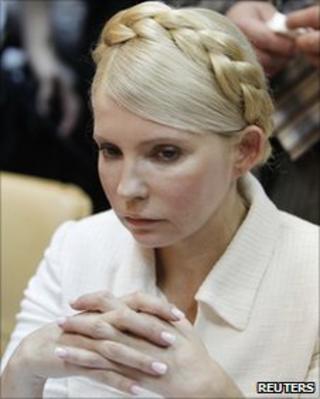 Ukraine's former prime minister and heroine of the 2004 Orange Revolution Yulia Tymoshenko has gone on trial in Kiev for abuse of power.
Mrs Tymoshenko has dismissed the charges, which concern natural gas contracts with Russia, as revenge by her rival, President Viktor Yanukovych.
She lost the premiership in March 2010 following a vote of no confidence.
Mrs Tymoshenko has asked the European Court of Human Rights to decide if the charges are politically motivated.
'Farce and circus'
About 1,000 of her supporters gathered outside the court in Kiev, which was ringed by police.
"This is a farce and circus and not a court hearing," Mrs Tymoshenko told the judge, according to the AFP news agency.
Investigators say she agreed a 10-year contract to buy natural gas from Russia at prices that were too high and were ruinous for the Ukrainian economy. They also say she did not have cabinet approval to sign the deal.
The charges are not the first to be brought against the former prime minister.
In December, she was charged with misusing 320m euros (£270m; $425m) received by the government in 2009 for the sale of carbon credits.
The US and the EU have condemned the charges against Mrs Tymoshenko and some of her allies as selective prosecution of political opponents.
The charges carry a sentence of seven to 10 years' imprisonment.
If convicted, Mrs Tymoshenko would be out of contention for parliamentary elections due in October 2012. Even a suspended sentence would bar her from running. The next presidential election is scheduled for 2015.
Mrs Tymoshenko was one of the central figures in the Orange Revolution of 2004, which overturned Mr Yanukovych's fraud-tainted presidential election victory.
She was prime minister briefly in 2005, and then again from 2007 to 2010. However, she was defeated by Mr Yanukovych in last year's presidential election.
Unlike in 2004, international observers ruled that election was largely free and fair.
Shortly afterwards, she resigned as prime minister after losing a vote of no confidence in parliament.
Branding the president a "coward", Mrs Tymoshenko said in court: "Whatever verdict is handed down, it will be a verdict against Yanukovych and not me."