Hungary's new constitution 'puts democracy at risk'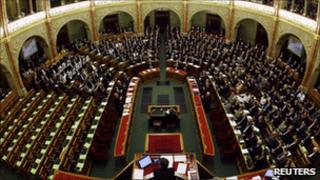 Experts from the Council of Europe have expressed concerns about the new Hungarian constitution voted in by a single political party in April.
The legal and constitutional experts said the charter was rushed through without proper debate.
They said the governing Fidesz party could use its two-thirds majority in parliament to push through laws which might prove impossible to overturn.
This meant, they said, "the principle of democracy itself is at risk".
The rapporteurs noted that the preamble to the constitution commits to defending the intellectual and spiritual unity of the nation, which was "torn apart in the storms of the last century", as well as those of Hungarians living abroad.
This, the experts warned, could be a future source of tension both within Hungary and with its neighbours.
They also said other social issues - including the rights of the unborn child, marriage between a man and a woman, and the definition of life sentences - "should be left to the ethical debates within society" rather than enshrined in the constitution.
Cardinal laws
When the new constitution was adopted in April, Hungary became the final former Central and East-European country to replace its communist-era charter.
The government said it would strengthen democracy and the rule of law.
It was passed by the Fidesz party, despite the opposition of the three other parliamentary parties.
The far-right party Jobbik voted against, while the Socialist and Green parties walked out of the chamber before voting began.
After visiting Hungary, experts for the Venice Commission of the Council of Europe issued a formal legal opinion both on the process and contents of the new constitution.
While they said the adoption of a new constitution was "a commendable step", they criticised many aspects of the charter itself.
They said the constitution-making process was hindered by a "lack of transparency, shortcomings in the dialogue between the majority and the opposition, the insufficient opportunities for an adequate public debate, and a very tight time frame".
They criticised the declaration that cultural, religious, moral, socio-economic and financial policies should be legislated under so-called "cardinal laws", which require a two-thirds majority to pass or overturn.
This could mean, in practice, that laws could be voted in by the current Fidesz government, with its super-majority, but be very difficult to reverse in future.
The BBC's Nick Thorpe in Hungary says critics in the country have already accused Fidesz of trying to impose a divisive right-wing ideology on the country.