UN urges refugee 'solidarity' within European Union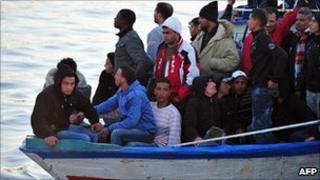 The UN High Commissioner for Refugees, Antonio Guterres, has called for "solidarity" within the EU to deal with an influx of migrants to the bloc.
Mr Guterres was speaking on Italy's island of Lampedusa, where thousands of north African migrants, including many Libyans, have arrived recently.
But he said that "for Europe as a whole it is a drop in the ocean", saying that many migrants had gone elsewhere.
Actress Angelina Jolie is also visiting Lampedusa as a UN goodwill ambassador.
'Huge pressure'
Mr Guterres's visit to Lampedusa - a tiny island in the Mediterranean - is to see for himself the crowded conditions faced by the migrants.
More than 40,000 refugees, including a large number of Libyans, have descended on the tiny island, often making the crossing in crowded, unsafe boats.
Some have been escaping the violence in north Africa, whilst many have seen an opportunity to get into the EU.
"When one looks at the situation in Libya, about one million people left Libya after the conflict started and less than 2% came to Europe. So, sometimes the debate in Europe is - in my opinion - a debate that doesn't correspond to the reality," Mr Guterres said.
He admitted that "for a small island like Lampedusa, to have such a large number of people coming is a huge pressure".
But he stressed: "I believe that with adequate forms of solidarity this challenge can be overcome."
Thousands of migrants have been sent to camps on mainland Italy, leading to a political row with other EU countries which fear the migrants may cross their borders.
Others have been sent back to Tunisia.
In her role as the UN goodwill ambassador, Ms Jolie will also be present on Lampedusa, just as the UN celebrates World Refugee Day on Monday.
It is the 60th anniversary of the UN's refugee convention, and the agency will present its annual report at a conference in Rome.
Refugees will also be taking part in the meeting but it comes at a time when the host nation is making it tougher for migrants to stay.
Prime Minister Silvio Berlusconi's government is under pressure to keep down the number of refugees arriving in the country.
Italy has just issued a new decree increasing the amount of time an illegal migrant can be held from six months to a year and a half.