Profile: Greek Pasok leader Evangelos Venizelos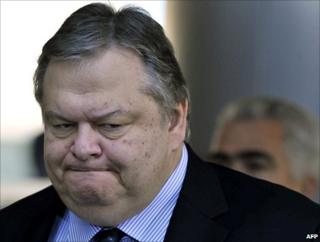 Evangelos Venizelos became leader of Greece's socialist party Pasok in the most inauspicious circumstances.
With the party haemorrhaging support amid popular anger at austerity measures, he took the leadership after George Papandreou was forced to quit - first as prime minister, then as Pasok leader.
Since then, Mr Venizelos has led the party into two successive electoral disasters.
Pasok went from 44% of the vote and 160 seats in 2009 to 13% and 41 seats in May 2012, then 12% and 33 seats in June.
Mr Venizelos was being punished for his party's record and his own association with Greece's austerity programme. As finance minister, he oversaw the second international bailout.
With no strong track record in financial matters, he had been an unlikely choice for that post. Little had been known about his views on finance and economics other than that he was in charge of preparing Athens for the 2004 Olympics, a project which mushroomed in cost, much of it state money .
The chief factor in his election as party leader, perhaps, was that he was the most obvious alternative to Mr Papandreou, his old party rival.
Party man
Evangelos Venizelos was born on New Year's Day in 1957 in Thessaloniki, Greece's second city.
He studied law in his home city, which he now represents as an MP, and pursued his studies in Paris.
His fluency in the French language may stand him in good stead in the corridors of Brussels although his command of English is said to be less sure.
The constitutional law expert entered parliament as a Socialist in 1993 and was in cabinet within a year as media minister. Stints at transport, justice, culture, development and defence followed.
By the time of the 2004 general election, he was well enough placed within the party to challenge Mr Papandreou after the Socialist defeat.
Appealing to the centre-left, and enjoying good relations with trade unions, he took 38% of the vote to 56% for Mr Papandreou.
On 18 March this year, as Pasok's support collapsed in opinion polls, he was elected unopposed as party leader.
Despite the party's huge defeats in May and June, it is being tipped as a junior partner to the conservatives in a new pro-bailout coalition government.
The risk for Mr Venizelos and Pasok is that, having already lost so many votes to radical leftists like Syriza, they will be seen by the electorate as synonymous with the right, and may dwindle into insignificance at the next election.