Greece: Papandreou picks Venizelos as finance minister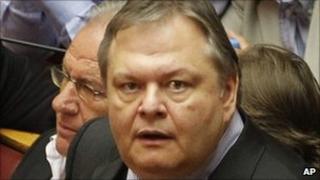 Greek Prime Minister George Papandreou has changed his finance minister in an attempt to push through unpopular austerity measures demanded by the EU.
Evangelos Venizelos has been promoted to the finance ministry and tasked with tackling a crippling debt crisis.
The proposed reforms have sparked riots in Athens and nationwide strikes, while rattling global markets.
The French and German leaders have called for swift agreement on a new rescue package for Greece.
German Chancellor Angela Merkel and French President Nicolas Sarkozy are meeting in Berlin to discuss further assistance aimed at preventing Greece defaulting on its sovereign debt - which amounts to some 340bn euros.
Athens is seeking to make budget cuts worth 28bn euros (£24.6bn; $40.5bn) over the next four years.
The policies are required for the release of the next tranche of aid - 12bn euros - from the European Union and International Monetary Fund.
Reshuffling the pack
Mr Venizelos' promotion came as part of a cabinet reshuffle that will be put to a vote of confidence in parliament that is expected to take place on Tuesday.
The former defence minister replaces George Papaconstantinou, who has been moved to the environment ministry.
Other appointments, which were confirmed at a swearing-in ceremony at around 1300 (1000 GMT), included:
Stavros Lambrinidis, formerly head of the ruling Socialist Party's group of deputies at the European Parliament, has been promoted to foreign minister
Deputy Defence Minister Panos Beglitis and deputy Labour Minister George Koutroumanis have been given ministerial posts
Health Minister Andreas Loverdos has been given extra responsibilities
Former Foreign Minister Dimitris Droutsas and former Environment Minister Tina Birbili have been dropped from the cabinet
Critics will say Mr Papandreou has just reshuffled the same old names, says the BBC's Malcolm Brabant in Athens.
Our correspondent adds that the key questions remain: Will this new cabinet pass the parliamentary vote of confidence? Will it be able to force through the next batch of austerity measures? And will the new administration satisfy Greece's creditors, the IMF and the EU?
Financial lifeline
At a press conference in Berlin on Friday, Mrs Merkel and Mr Sarkozy presented a united front, welcoming private involvement in a new Greek rescue - although they said this would be voluntary and provided no details as to how it would work.
French and German banks have the most exposure to Greek debt, holding, between them, 55% of Europe's total exposure.
Berlin and Paris have differed over the handling of the Greek crisis - Mrs Merkel has been insistent that banks and private creditors holding Greek debt should accept losses as part of the rescue plan, in the face of domestic opposition to German taxpayers underwriting more of Greece's debt burden.
France, meanwhile, is reluctant to accept those terms as three major French banks are heavily exposed to Greek debt and risk considerable losses if it is restructured.
Similarly, the European Central bank is worried any changes in terms of the bailout deal will set a bad precedent for nations in similar financial straits such as Portugal, Ireland and Spain.
The EU's top financial official Olli Rehn has indicated Greece is likely to get its next financial lifeline in July, even though EU finance ministers have yet to agree on a new bail-out package.
Downgraded debt
Three deputies have left Mr Papandreou's Pasok party in as many days in protest against the austerity package but, on Thursday, Mr Papandreou vowed to fight on.
The resignations do not affect the party's five-seat parliamentary majority as the seats are automatically allocated to the next Socialists in line, but they are an indication of the difficulties Mr Papandreou faces in winning confidence in his leadership, correspondents say.
On Wednesday, Greece witnessed some of the most violent protests in more than a year, as tens of thousands of activists and unionists gathered in Syntagma square in Athens, near parliament, while a further 20,000 demonstrated in Thessaloniki.
President Karolos Papoulias has urged Greek politicians not to make matters worse by turning the economic crisis into a political one.
With a new cabinet appointed, Greece will almost certainly get the official money it needs to stay above water for a few more weeks, notably the next tranche of last year's EU-IMF bailout, says the BBC's economics editor, Stephanie Flanders.
All the eurozone ministers have to do is agree in principle to fill the funding gap in the Greek economic programme, which they will now do on Sunday, adds our correspondent.
Greece's debt was downgraded by Standard & Poor's ratings agency earlier this week, making it the lowest-rated of the countries it monitors.