Macedonia assembles giant statue amid row with Greece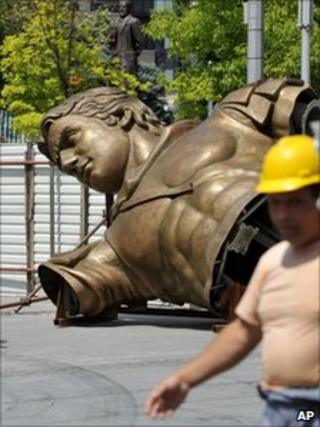 Work has begun in Macedonia to erect a giant bronze statue resembling Alexander the Great, as a bitter row over heritage simmers with Greece.
Pieces of "Warrior on a Horse" were laid out in the capital Skopje and are due to be assembled this week .
The government says the 22m (72ft) monument is important to redevelopment but critics see it as a waste of money.
Greece, which has its own province of Macedonia, disputes Skopje's right to claim Alexander's heritage.
Tensions between Macedonia and Greece have blocked the ex-Yugoslav republic's accession to Nato and its progress towards joining the EU.
Macedonia accuses Greece of treating it unfairly and insists a 1995 agreement to change its constitution and flag should have ended any argument over potential claims on territory.
While the new monument is not being officially called after Alexander, the ancient leader's name has been given in recent years to Skopje's airport as well as the main motorway running towards Greece.
Prime Minister Nikola Gruevski has been accused of pandering to nationalist sentiment with the project
Cast in Italy, the monument cost an estimated 5.3m euros (£4.7m; $7.6m) and consists of a statue 12m (39ft) tall, to be placed on a 10m fountain pedestal.