EU migrants: Lampedusa Italy now main entry point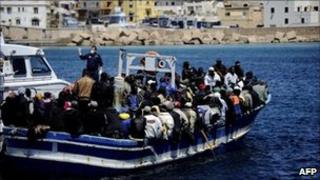 Italy has replaced Greece as the main point of entry for illegal migrants to the EU, with numbers more than doubling in the first quarter of 2011.
Frontex, the EU borders agency, said 32,906 migrants had arrived in the first three months, two-thirds of them on the Italian island of Lampedusa.
The Greek-Turkish border had become the main entry-point after Spain and Italy clamped down last year.
But numbers to Italy surged back amid unrest in Libya and Tunisia.
Hundreds of would-be migrants have drowned in recent months while attempting perilous sea crossings in overcrowded and often inadequate boats.
Angry island
In the first quarter of last year, just 147 illegal migrants were detected trying to enter Italy, Frontex was quoted as saying by the Associated Press news agency.
During the same period, 13,085 people attempted to get into Greece, it added.
Arrivals on Lampedusa have continued steadily since March.
On Saturday, seven boats carrying more than 1,500 African refugees from Libya including at least 130 women and 22 children arrived on the island, according to coast guard officials.
"The bad weather in the past few days has created very strong concentrations [of migrants]" said spokesman Davide Miserendino.
"They are all sub-Saharans arriving from Libya."
With detention facilities overflowing, frustration is growing on the tiny island, which has a population of fewer than 6,000 and survives on luxury tourism.