Chechnya: Ruud Gullit fails on Terek Grozny ultimatum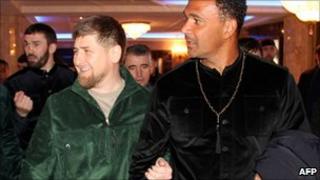 The Dutch manager, Ruud Gullit, has lost a game which his boss said he either had to win or be sacked.
Terek Grozny lost the Russian Premier League match to Amkar Perm by a last-minute own goal.
The chairman of Terek - Chechen leader, Ramzan Kadyrov - has been disappointed by Mr Gullit's results since he arrived in January.
He accused the former World Footballer of the Year of being distracted by bars and night clubs.
Terek is languishing near the bottom of the sixteen team league.
Football coach and former star player Ruud Gullit had been given an angry ultimatum by the team he coaches: Win on Tuesday or you lose your job.
The Dutchman had an enthusiastic welcome when he arrived to coach Chechen team Terek Grozny in February.
But the club now says Gullit is distracted by "bars and discos" and has not justified its hopes.
Mr Gullit was not was not immediately available for comment.
Fearsome
Terek Grozny finished 12th in the 16-team Russian Premier League in 2010.
Gullit was signed with the target of qualifying for European competition by 2012.
But after Gullit's 12-match tenure the team is now languishing in 14th place.
The club's president is the Chechen leader, Ramzan Kadyrov, who even played for the team during a celebrity match in March.
He has a fearsome reputation, as Ruud Gullit has been finding out, says the BBC's sports news reporter Alex Capstick.
Mr Kadyrov is "extremely dissatisfied" with Gullit's performance, the club said in the harshly worded statement in Russian on its website.
Terek is a team that "has never looked so hopeless" and Gullit refuses to accept any of the blame, it says.
"Considering all this, Ramzan Kadyrov is presenting Ruud Gullit with the task of bringing back three points from Perm.
"In the event of the opposite outcome, Gullit will be dismissed from the position of head coach."
Gullit, a former World Player of the Year and one of the most successful players in the history of Dutch football, was signed to an 18-month contract when he joined Terek.
Moscow had invested significant political hopes in the Chechen team's sporting success, in an attempt to move forward after two decades of ruinous conflict with the breakaway region.