Mikhail Khodorkovsky 'sent to secret prison'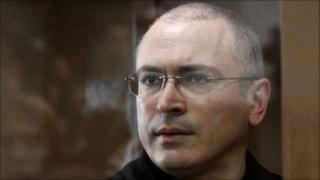 Former Russian oil tycoon and outspoken Kremlin critic Mikhail Khodorkovsky has been transferred to a secret prison, his lawyers have said.
They said they were informed on Friday that he had been moved from Moscow to an undisclosed location.
Lawyer Vadim Klyuvgant said he believed the transfer was intended to artificially delay his client's parole hearing.
His first bid for parole in 2008 was unsuccessful.
Mr Klyuvgant said it would be easier for authorities to reject Khodorkovsky's request for early release if the review was held far from Moscow, and from journalists who could scrutinise the procedure.
Rights violated
"It is clear that they are trying to prevent hearing the petition for parole in Moscow since there are no legitimate grounds for a denial," Mr Klyuvgant said in a statement, according to Reuters.
Khodorkovsky's business partner and associate Platon Lebedev, who was initially sent to a prison colony above the Arctic Circle, has also reportedly been transferred from the Russian capital.
In February 2009, ahead of his second trial, Khodorkovsky was transferred to Moscow from an eastern Siberian prison camp, near the border with China, where he was serving his first sentence.
Khodorkovsky's relatives - who have reportedly been prevented from meeting him ahead of the transfer - will be informed of his new location within 10 days, a source told Itar-tass state news agency.
Khodorkovsky has been convicted in two separate trials since his 2003 arrest, and can apply for parole having served more than half of his 13-year sentence.
In May, a Moscow appeals court upheld his fraud conviction, but cut his sentence by a year.
The former head of the former oil giant Yukos and once Russia's richest man, Khodorkovsky is currently due for release in 2016.
He was once seen as a potential challenger to Vladimir Putin, Russia's president at the time of his arrest, and now the country's prime minister.
The European Court of Human Rights ruled last week that Russia violated Khodorkovsky's rights during his 2003 arrest and imprisonment on charges of fraud and tax evasion.
It ordered Moscow to pay him 24,500 euros ($35,300) but failed to find firm proof that the case against him was politically motivated.