Turkey election: Battle for votes as campaign nears end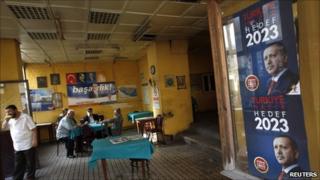 Campaigning for Turkey's election has entered its final days with the ruling AKP party pushing for a big enough majority to change the constitution.
Opinion polls suggest the party, which has Islamist roots, will win a third term on Sunday but it needs two-thirds of the seats to make amendments.
It wants more powers for the president, fuelling speculation Prime Minister Recep Tayyip Erdogan may seek the post.
The party has been buoyed by job creation and strong economic growth.
In March, the jobless rate was 11.5%, down from 14.4% in the same period last year.
Under the AKP, per capita income has nearly tripled, reaching $10,079 (£6,100) in 2010, and the party's manifesto promises to make it $25,000 by 2023 - the centenary of the Turkish republic.
Campaigning by the parties must end by 1800 (1500 GMT) on Saturday, according to election regulations.
Women's rights issue
With its slogan "Turkey is ready, the goal is 2023", the AKP is accused by some of arrogance, as it is running ahead of the four years in office a third election victory would bring.
It has pledged to build a shipping canal and new cities on the outskirts of Istanbul.
Mr Erdogan has said he wants a "constitution that values basic rights and freedoms, one that is all-comprising, one that the people can call their own".
But critics are concerned that the party's consolidation of power is undermining its commitment to strengthen democracy in Turkey, a Nato member and EU hopeful which straddles Europe and the Islamic world.
Mr Erdogan announced on Wednesday proposals to replace or revamp some government ministries, renaming the "ministry for women and family" the "ministry of family and social policies".
Human Rights Watch (HRW) said such a step would harm efforts to combat gender inequality and violence against women.
"[It] flies in the face of research showing major shortcomings on women's rights and horrendous violence against women," said Gauri van Gulik, women's rights advocate and researcher at HRW.
"Women in Turkey need more determined action by the government, not less, to protect women's rights in practice."
Revitalised opposition
The main opposition party, the centre-left CHP, has called for the creation of a "ministry of equality" to reduce the gender gap.
Regarded as a pillar of the secularist establishment, and out of power for decades, the party has been revitalised under its new leader, Kemal Kilicdaroglu.
At a rally, he accused the AKP of transforming Turkey into "an empire of fear" and a "police state", and Mr Erdogan of behaving like a "sultan".
The third-biggest party, the nationalist MHP, has been rocked by the resignations of 10 leading members in a sex video scandal.
Its leader, Devlet Bahceli, rejects any constitutional changes that could lead to a structure based on different ethnic identities.