Man 'denied French citizenship over degrading views'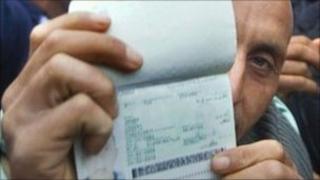 An Algerian man living in France has been denied French citizenship because of his "degrading" attitude towards women, media report.
An inquiry showed the man did not respect the principle of equality between the sexes, Europe 1 radio quotes a French official as saying.
It adds the unprecedented decision signals tough new requirement for obtaining nationality.
The unnamed man is said to have been married to a French citizen for years.
An interior ministry official quoted by Europe 1 insisted the rejection was justified.
The man's behaviour, the official said, had been "incompatible with the basic values of the French community and the principle of equality between men and women".