EU-Russia summit overshadowed by E. coli vegetable ban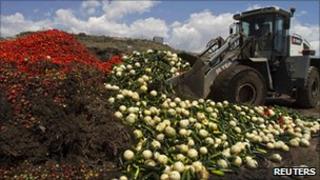 EU and Russian leaders are due to open a two-day summit, amid concerns at Moscow's ban on EU vegetable imports following a deadly E. coli outbreak.
Brussels has condemned last week's measure as "disproportionate", but Russia says it wants to know the source of the outbreak before lifting the ban.
The outbreak has so far left at least 26 dead, most of them in Germany.
At the talks in Nizhny Novgorod, the EU and Russia will also discuss gas pipeline projects and visa-free travel.
Meanwhile, the EU has increased to 210m euros (£187m) its offer of compensation to farmers who have lost income due to E. coli crisis.
'No expectations'
Ahead of the bi-annual summit in the city on the Volga river, Dutch Agriculture Minister Hans Bleker downplayed hopes for a quick resolution of the rift between the two sides over last Thursday's ban on vegetables.
"We will see in the next hours, the next two or three days what will be the complete results," Mr Bleker told reporters, after holding urgent talks in Moscow on Wednesday.
He added that he had "no expectations that there will be an end to the export ban within a couple of days".
Russia imports about one-fifth of its vegetables from the EU, which makes it the bloc's largest market for the produce.
The EU has warned Russia that its ban is contradicting the spirit of the World Trade Organisation (WTO) - which Moscow wants to join.
However, Russian Prime Minister Vladimir Putin has countered that he would not "poison" his people for the sake of the WTO.
All in all, this has been not the perfect build-up to the bi-annual meeting of Russia and its largest trading partner and investor, the BBC's Steve Rosenberg in Moscow reports.
In Nizhny Novgorod, the two sides are also expected to discuss visa-free travel for Russians to the 27-member bloc, but a breakthrough is unlikely.
'Infections dropping'
On Wednesday, EU Farm Commissioner Dacian Ciolos raised 210m euros (£187m) its offer of compensation to farmers who have lost income due to the E. coli outbreak.
Mr Ciolos was forced to act after coming under pressure from major producers. The EU had initially offered 150m euros.
European farmers' federation Copa-Cogeca quickly rejected the improved EU offer, which is still a fraction of farmers' estimates of their losses estimated to be as high as 417m euros a week.
Cases of the rare strain of enterohaemorrhagic E. coli (EHEC) have been concentrated in the northern German city of Hamburg.
Germany's health minister has said infections are dropping significantly, though he warned that more deaths were expected.
Health authorities in Germany erroneously blamed Spanish cucumbers, before an organic bean sprout farm in northern Germany came under suspicion.
Some samples from the farm have tested negative, with results of other tests still pending.
Scientists and German officials have warned that the origin of the infection might never be found.