Italian police in massive swoop on mafia suspects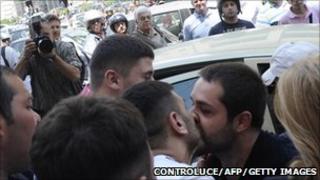 Italian police have carried out co-ordinated raids across the country against the Calabrian mafia, known as the 'Ndrangheta.
More than 1,000 officers swooped at dawn on targets stretching from Reggio Calabria to Milan.
They arrested about 150 suspects - most of them in the north.
Anti-mafia investigators have long warned that the tentacles of 'Ndrangheta extend far beyond its poor southern roots.
'Ndrangheta is now recognised to be a major force in organised crime as it seeks to launder its ill-gotten gains by taking control of legitimate northern businesses.
The assets of 10 companies have been frozen as part of the investigation and property worth more than 70m euros (£62m) seized.
Italy's parliamentary anti-mafia commission has described the 'Ndrangheta as the country's most dangerous - and richest - mafia.
It made its fortune from kidnapping for ransom, then expanded into drugs trafficking, especially cocaine.
The network has used the migration of poor Calabrians to northern Italy or abroad to export its influence.