Turkey election: Leyla Zana eyes Kurdish comeback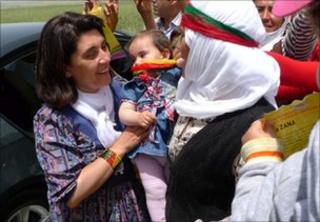 Ahead of Sunday's general election in Turkey, Leyla Zana does not need to campaign at all.
The diminutive 50-year-old woman is guaranteed to win a seat in parliament, such is her legendary status among the Kurds of the south-east. But people in the little town of Hazro want to see and meet her, and she seems happy to oblige.
Leyla Zana fizzes with energy. She is generous with the hugs demanded by old Kurdish women in lacy white headscarves, and with kisses for the proffered babies. But her mind seems focused on the message, and it is a tough one.
"We are the kind of people who, when we trust someone, really give them a chance," she tells the crowd in Hazro.
"Mr prime minister, we gave you eight years, and you wasted it. You have lost your chance."
She is referring to the promise by Recep Tayyip Erdogan and his Justice and Development Party (AKP) of a new deal for the Kurds, a promise many Kurds say has delivered only small improvements in the freedom to use their own language.
Jail sentence
Mrs Zana is running as an independent candidate, the tactic her party - the main Kurdish party, BDP - is using to get round the requirement for all parties to win 10% of the vote before they can enter parliament.
She does not talk about her own life story, but it is a dramatic one.
Born in 1961, not far from Hazro, she was married to her cousin Mehdi Zana at the age of 14, in a typical Kurdish family arrangement. He was a Kurdish activist who was elected mayor of Diyarbakir in 1978, but was jailed and brutally tortured following the military coup in 1980.
Mrs Zana, who had two children and only one year of schooling, became a leading campaigner for Kurdish prisoners, and in 1991 she was elected the first Kurdish woman MP.
While taking the oath of loyalty in parliament, she added a phrase in the Kurdish language, promising to struggle for greater democracy. For that she was prosecuted and jailed for 15 years.
In prison she was twice nominated for the Nobel Peace Prize, and awarded the Andrei Sakharov prize for human rights. Her conviction was overturned in 2004.
She is a passionate advocate of peace in the Kurdish region, yet like all the candidates backed by the BDP, she makes no attempt to distance herself from the armed and banned insurgent movement, the PKK, and its leader Abdullah Ocalan.
Since the rebels took up arms in 1984, more than 40,000 people have been killed - most of them civilians, but many young Turkish soldiers too. The deaths continue, with the PKK bombing military and civilian targets, and the army hitting PKK hideouts in the mountains.
'Our hero'
Mrs Zana accepts that there have been improvements under Mr Erdogan's government, but says it is not enough.
"This is a better, freer election campaign than we had before. I can't say the AKP has done nothing. but in their second term, they stopped. They felt too comfortable."
The Turkish people are softer now and more aware of the Kurdish conflict, she believes, than before she went to prison.
But she argues that there can be no peace until Turks acknowledge the full extent of the abuses committed during the army's war against the PKK in the 1990s, when more than 3,000 villages, many of them in the area around Hazro, were demolished.
"Turkey is different from South Africa," she says, referring to the post-apartheid processes there.
"I doubt there is enough public appetite for the real truth. I don't believe a truth and reconciliation commission here would be effective," she says.
Just before she starts speaking in the town square, the people of Hazro stand for a minute's silence, their hands raised in the two-fingered PKK salute to the Kurdish fighters who have died. But it is as much a salute to Leyla Zana.
"She's our hero," a group of young men tell me. "She never deserted us, we will never desert her."
Radicalisation fears
The BDP has momentum on its side in this campaign - many Kurds are disillusioned with the AKP - but it is unlikely to win a landslide in the south-east.
The PKK has made enemies with its violent tactics, and the AKP's conservative, business-orientated approach has won it a solid support base.
But Leyla Zana is more or less guaranteed to win her seat, and will enjoy parliamentary immunity from prosecution.
In recent years she has been charged, and convicted, on multiple occasions by Turkish courts for pro-PKK statements.
State prosecutors have just opened another case against her for a comment on an earlier visit to Hazro last month, when she predicted that Abdullah Ocalan would be freed and become the teacher of the Kurdish people. Unlike in 1991, she is unlikely to have her immunity stripped this time.
I asked if she ever felt bitter. No, she said, that is unhealthy. But she warned of the growing radicalisation of younger Kurds.
She told a story of a Kurdish man who recently went to negotiate the release of his 12-year-old son from police custody. The moment they stepped outside the boy started throwing stones back at the police station.
"Are you crazy?" his father asked him. "Do you want to go back inside?"
No, said his son, he was not crazy - but unlike his father, neither was he afraid.