Croatia completes most of EU membership talks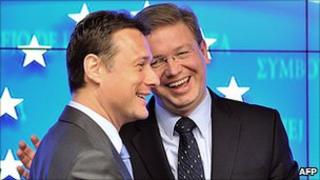 Croatia has moved closer towards wrapping up its EU entry talks and its neighbour Hungary says that could happen by July.
Hungary is steering the talks as current holder of the EU presidency - a role it hands over to Poland in July.
On Monday EU-Croatia negotiations on fisheries were completed.
Only four negotiating "chapters" remain - including tough judicial and competition issues. Croatia is on track to become the 28th EU state.
Later this week the European Commission plans to recommend completing accession talks with Croatia so that it can join the bloc in mid-2013, EU sources are quoted as saying.
Hungary's top diplomat in Brussels, Peter Gyorkos, said "the Hungarian presidency will do its utmost to close the negotiations before the end of the presidency's term".
But in a statement he said the remaining chapters were perhaps the most difficult politically and would require much effort from Croatia.
The former Yugoslav republic needs to harmonise its privatisation of state-owned shipyards with EU rules on state aid.
On judicial reforms, the EU has pressed Croatia to deal more effectively with high-level corruption and tackle a backlog of court cases.
Judicial issues are especially sensitive because the last EU countries to join - Bulgaria and Romania in 2007 - failed to meet full EU standards in that area. The EU imposed a monitoring mechanism on them to deal with the shortcomings.
If the Commission recommends Croatian accession then all 27 member states still have to back it and ratify the accession treaty before Croatia can join.