E. coli outbreak: First German sprout tests negative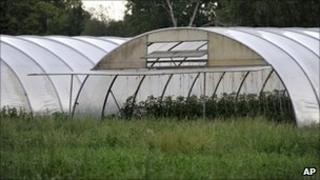 The first tests on bean sprouts from a northern German farm suspected of being the source of an E. coli outbreak are negative, officials say.
Of 40 samples from the farm being examined, officials said 23 tested negative. Further tests are pending.
They said finding the outbreak's cause may prove difficult, because weeks have passed since it began.
The farm in Uelzen south of Hamburg was named on Sunday as the probable source of the bug that has killed 22 people.
Initially, German officials had pointed to Spanish cucumbers as the likely cause.
More than 2,200 people have fallen ill in at least 12 countries, though cases outside Germany have been linked to travel there.
'Can't understand'
"Investigations are continuing," Lower Saxony's agriculture ministry said on Monday as it announced that the first tests had proved negative.
It added that it did not expect "any short-term conclusions", and that given the complex testing procedure, the remaining 17 samples may not be returned for a few more days.
The organic farm in Uelzen is about 100km (62m) south of Hamburg, the epicentre of the outbreak.
It produces bean sprouts including adzuki, alfalfa, broccoli, peas, lentils and mung beans, all grown in a nursery for consumption in salads.
The farm's general manager, Klaus Verbeck, was quoted by the Neue Osnabruecker Zeitung newspaper as saying that he could not see how it was to blame.
"I can't understand how the processes we have here and the accusations could possibly fit together," said Mr Verbeck.
"The salad sprouts are grown only from seeds and water, and they aren't fertilised at all. There aren't any animal fertilisers used in other areas on the farm either."
The strain of enterohaemorrhagic E. coli (EHEC) involved in the outbreak is normally transmitted through faeces or faecal bacteria.
Spanish seek damages
Scientists say it is an aggressive hybrid strain toxic to humans and not previously linked to food poisoning.
Hundreds of those affected by the bacterium have developed haemolytic-uraemic syndrome (HUS), which can be fatal.
EU agriculture ministers are to hold an emergency meeting in Luxembourg on Tuesday, where they are expected to discuss the outbreak and how the EU can respond to its economic impact.
They are also expected to address a Russian ban on imports of fresh produce from the EU, introduced in response to the outbreak.
Spain has made it clear it will seek damages after Spanish produce was linked to the outbreak.
Spain's fruit and vegetables exporters association has estimated losses at 225m euros (£200m) a week.
"We have told Germany that it must reimburse us for the loss, Spanish Agriculture Minister Rosa Aguilar told Spanish public television.
"If it covers 100%, which is what we are demanding, the affair will be closed. Otherwise we reserve the right [to take] legal action."