Macedonian premier Nikola Gruevski wins election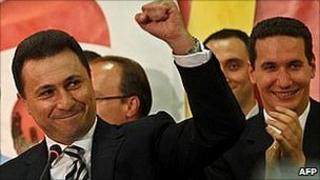 Macedonia's Prime Minister Nikola Gruevski looks set to take office for a third term after his conservative party won parliamentary elections.
Mr Gruevski's VMRO DPMNE party won 39% of the vote. The rival Social Democrats conceded defeat, after winning 32.7%.
However, Mr Gruevski will need to form a coalition to govern the small Balkan state for another four-year term.
The country faces high unemployment and a flagging economy. It is hoping for eventual EU and and Nato membership.
But those aspirations have been blocked by Greece because of a 20-year-long name dispute.
'Grandiose projects'
Greece has a province called Macedonia, and says the country cannot use the same name.
The International Court of Justice is expected to make a decision on the issue later in the year.
The snap election was called after the opposition Social Democrats walked out of parliament in January in protest at what they called a politically motivated crackdown by the government on pro-opposition TV station A1.
It was the latest in a growing list of grievances the opposition had against the government.
They accused Mr Gruevski of spending millions on grandiose building projects, when one in three Macedonians lived below the poverty line and some 32% of the population was out of work, the Associated Press reports.
Mr Gruevski insisted his government had managed to preserve a stable economy and largely avoided the worst effects of the global economic crisis.
Analysts say Mr Gruevski is likely to link up once again with his coalition partner, DUI, which won 10.2% of the vote.
DUI represents Macedonia's ethnic Albanian minority, which makes up about a quarter of the population.