Signs that E. coli cases are stabilising, say doctors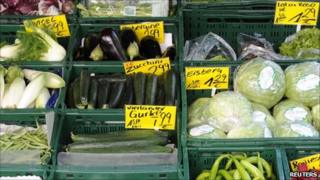 European health officials say there are signs that the outbreak of a deadly strain of E. coli is stabilising.
They said that despite nearly 200 new cases in Germany - the centre of the outbreak - in the first two days of June, infection rates were dropping.
However, one doctor cautioned: "It may be less, but it's not over yet."
At least 18 people have died and 1,836 have been infected by the bug since it was first detected on 1 May. Most of those affected are in Germany.
German clinics have been appealing for blood donations as doctors have had to perform blood transfusions in severe cases.
Scientists say the new E. coli strain's genes have been decoded. It is a new hybrid form toxic to humans.
Germans are being advised not to eat raw vegetables, although one European laboratory has thrown doubt on whether contaminated produce could be the source.
'Decreasing'
The Robert Koch Institute (RKI), Germany's national disease centre, said on Friday that in the previous two days there had been 199 new cases of the outbreak - bringing to 1,733 the number of infections.
A restaurant in Luebeck, about 65km (40 miles) north-east of the outbreak's epicentre in Hamburg, was cleared as the cause of making 17 diners ill last month with E. coli.
Scientists were examining the restaurant's supply chain to find out how the bacteria spread.
The World Health Organisation said a further 103 people in 12 other countries had been sickened by the bug - all but one had recently travelled to or from northern Germany.
The United States said two of its military personnel in Germany were suspected to have come down with the illness.
Reinhard Brunkhorst, president of the German Nephrology Society, told reporters there were some signs that the outbreaks were slowing.
He said hospitals in northern Germany - the epicentre of the scare - had seen fewer new infections being reported each day.
"There is no reason for hysteria, because it's not spreading and it's not increasing - it's decreasing," he said.
But he also stressed that it was too early for doctors to positively say the end of the outbreak was in sight.
The RKI has continued to warn Germans to avoid eating cucumbers, tomatoes and lettuce.
But the EU's Reference Laboratory for E. coli in Rome said such warnings were not justified as scientific tests "do not support the hypothesis that contaminated vegetables were the source of the infection".
'Dramatic situation'
The outbreak has led to a global scare - and worrying times for European farmers.
Russia - the EU's largest export market for vegetables - has rejected pleas from Brussels to drop its ban on the import of fresh vegetables.
The UK has been debating whether produce from Germany should be banned, and the US has begun inspecting shipments from Germany and Spain.
One cucumber producer in Germany's Lower Saxony region said he had destroyed around two million cucumbers and tomatoes on one day alone.
"It's not only that we are suffering a loss of revenue, but we also have additional waste disposal costs," Karl Voges told the BBC.
"I can't tell you how long we can go on like this. The situation is slowly starting to become dramatic for us."
Sales of Spanish produce have all but ground to a halt across Europe following initial claims from Germany that Spanish cucumbers were the source of the outbreak.
Germany has since apologised, and has agreed with Madrid to push the European Union for help for affected farmers.
New cases
E. coli is a bacterium that usually inhabits the guts of cattle and sheep and is mostly harmless.
Some strains, such as Enterohaemorrhagic E. coli (EHEC), can cause diarrhoea, severe stomach cramps and fever, though most sufferers recover within days.
However, a small number of patients develop the potentially deadly haemolytic uraemic syndrome (HUS), which attacks the kidneys and nervous system.
The bacterium sticks to the intestine walls, pumping out toxins.
The World Health Organization (WHO) said on Friday that 1,213 EHEC cases and 520 HUS cases had now been reported in Germany.
It added that 553 cases of HUS and 1,283 cases of EHEC had been detected globally.
In Britain, health officials announced four more EHEC cases, bringing the total number to 11. All patients had recently travelled to Germany.
American health officials say that, along with the two servicemen, four other people in the US who had recently travelled to northern Germany are suspected to have the infection.