Orphaned bear cub in Slovenia tug of love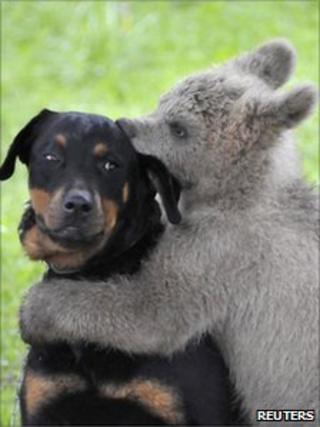 An orphaned male bear cub which has charmed Slovenia with its antics since being adopted by a family faces removal to a wildlife shelter.
Known to some just as Medo (Slovenian: Bear), and dubbed Lucky by media, it wandered into the Logar family's yard in the village of Podvrh a month ago.
Family members have bonded with the cub, which is known to hug the family dog and play on the furniture.
But officials fear the fourth-month-old cub could grow dangerous.
The family have asked for permission to build a fenced enclosure.
The cub's story has captivated sections of the press in Slovenia, a mountainous state with a brown bear population.
It is believed the cub was abandoned by its mother.
The brown bear (Ursus arctos) is one of the largest living land-based carnivores and males grow to weigh up to 350kg (770lb).