Mladic arrest: Scars of Sarajevo siege still linger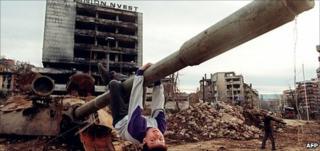 Among the charges levelled at General Ratko Mladic, the former head of the Bosnian Serb army awaiting extradition to The Hague, are those relating to the 1992-1995 siege of Sarajevo. Zlata Filipovic, who was growing up in the city at the time, gives her reaction to his arrest.
The overwhelming view on the detention of Ratko Mladic - finally caught 16 years after he was indicted - was that those who had suffered through his battles must be elated, celebrating the end of something.
For those less acquainted with the war in former Yugoslavia, the line of thinking is: You wanted this, you got it, now let's finish this chapter and turn the page.
"Closure" is a word that trips off the tongues of those who ask what I think.
I wish I had leapt from a chair when I heard the news, or that this arrest would represent some sort of closure for me.
But at the risk of disappointing people, while I consider the arrest good news, the effect of the bloody and warped military campaigns waged by Gen Mladic (and I feel uncomfortable calling him a general, as it indicates an element of respect) is something that remains and defines my life, and the lives of so many.
'Hopeless and broken'
Darko Mladic, the general's son, has said that the siege of Sarajevo was a legitimate military operation.
But I lived in Sarajevo for almost two years of a siege that lasted 44 months. It was the darkest, most hopeless, broken, dangerous, deprived period of my life.
I was that 11-year-old girl that some of Gen Mladic's 18,000 soldiers and snipers on the hills around Sarajevo could see running across the bridge in front of my house.
My father was the one carrying plastic containers from the pump that was providing drinking water for a city of half a million. My mother is the one who was on her way to stand and wait in a bread queue that soldiers bombed from the hills, killing 19 civilians and wounding more than 150.
I was also one of the lucky ones who survived, and avoided becoming part of the grim statistic of 10,000 dead - including 1,500 children - victims of bombs, mortars, snipers and the lack of food, water and medication.
We lived through apocalyptic times, shelled heavily on a daily basis regardless of our nationality or ethnicity.
We were being killed because we were civilians in a city that Gen Mladic and his henchmen hated - for everything multi-ethnic and multicultural that it represented.
Gen Mladic is one of those who has given Serbs a bad name, even those like our friends and neighbours who stayed in the city and shared every dark reality of Sarajevo siege along with everyone else.
He will hopefully be extradited and tried in The Hague for all the crimes for which he is indicted.
But for me personally, his responsibility lies in the fact that his soldiers killed my 11-year-old friend Nina in a park in front of our house, that my mother's cousin is dead, that my uncle almost lost his leg and that my city and all the lives in it were broken and still suffer the consequences of the bloodthirsty hate and madness of the siege.
'Lost forever'
A trial, whatever the outcome, will never provide full satisfaction.
I always use the analogy of a minor crime. If someone steals your handbag, and they are found, and tried, this is correct and proper.
But the handbag your boyfriend gave you for your birthday, and the only picture of your family from a holiday that was hidden in the wallet, will never be found.
Some things are lost forever, and law and the courts will, alas, never be able to reverse that.
What can be said about Gen Mladic? His deeds speak for themselves.
All that I and the other citizens of Sarajevo and Bosnia who needlessly and unjustly suffered can do now is watch international justice be carried out.
He may survive or pass away, he may fight in the court or stir nationalist sentiment on the ground in the former Yugoslavia.
But whatever happens, may he and people like him never feature in our lives again.
Zlata Filipovic is the author of Zlata's Diary, her account of the siege of Sarajevo.
War in the former Yugoslavia 1991 - 1999
The former Yugoslavia was a Socialist state created after German occupation in World War II and a bitter civil war. A federation of six republics, it brought together Serbs, Croats, Bosnian Muslims, Albanians, Slovenes and others under a comparatively relaxed communist regime. Tensions between these groups were successfully suppressed under the leadership of President Tito.
After Tito's death in 1980, tensions re-emerged. Calls for more autonomy within Yugoslavia by nationalist groups led in 1991 to declarations of independence in Croatia and Slovenia. The Serb-dominated Yugoslav army lashed out, first in Slovenia and then in Croatia. Thousands were killed in the latter conflict which was paused in 1992 under a UN-monitored ceasefire.
Bosnia, with a complex mix of Serbs, Muslims and Croats, was next to try for independence. Bosnia's Serbs, backed by Serbs elsewhere in Yugoslavia, resisted. Under leader Radovan Karadzic, they threatened bloodshed if Bosnia's Muslims and Croats - who outnumbered Serbs - broke away. Despite European blessing for the move in a 1992 referendum, war came fast.
Yugoslav army units, withdrawn from Croatia and renamed the Bosnian Serb Army, carved out a huge swathe of Serb-dominated territory. Over a million Bosnian Muslims and Croats were driven from their homes in ethnic cleansing. Serbs suffered too. The capital Sarajevo was besieged and shelled. UN peacekeepers, brought in to quell the fighting, were seen as ineffective.
International peace efforts to stop the war failed, the UN was humiliated and over 100,000 died. The war ended in 1995 after NATO bombed the Bosnian Serbs and Muslim and Croat armies made gains on the ground. A US-brokered peace divided Bosnia into two self-governing entities, a Bosnian Serb republic and a Muslim-Croat federation lightly bound by a central government.
In August 1995 the Croatian army stormed areas in Croatia under Serb control prompting thousands to flee. Soon Croatia and Bosnia were fully independent. Slovenia and Macedonia had already gone. Montenegro left later. In 1999 Kosovo's ethnic Albanians fought Serbs in another brutal war to gain independence. Serbia ended the conflict beaten, battered and alone.
BACK
{current} of {total}
NEXT