Who, What, Why: How will Mladic's fitness for trial be assessed?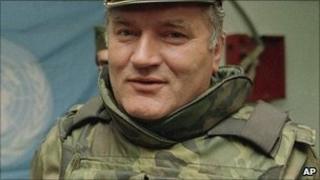 Former Bosnian Serb military commander Ratko Mladic is to be extradited to The Hague to stand trial over allegations of genocide. His lawyers say he is too ill to face trial, but how ill would a defendent have to be for a trial to be called off?
None of the 161 individuals indicted by the International Tribunal for the Former Yugoslavia (ICTY) since 1995 has been excused a trial on medical grounds, though many have complained of ill health, often leading to delays in procedings.
The trial of former Yugoslav President Slobodan Milosevic was repeatedly postponed on health grounds - he died in 2006 before a verdict was ever reached.
Prosecutors will be keen to avoid a repetition of the protracted and often frustrating Milosevic trial in the case of Gen Mladic, who stands accused of killing 7,500 Bosnian Muslim men and boys in the Srebrenica massacre in 1995.
Lawyers for the 69-year-old say he is in a "poor physical state" and is not well enough to leave Belgrade for the Netherlands. He is believed to have had a stroke and to be partially paralysed on one side.
The extradition hearing in Belgrade ruled he is fit enough to be sent to The Hague, despite suffering from a number of "chronic conditions". His lawyers are expected to appeal against this decision.
"It is convenient for lawyers to suggest their client is not fully fit at the time of the arrest," says Prof Jon Silverman of the University of Bedfordshire.
"The Serbian foreign minister might, in theory, have the power to halt the extradition. But as this is such a political case for Serbia, it is highly unlikely the minister would take that step if there were any doubt."
Severe ill health has already proved no barrier to international justice, as was seen with John Demjanjuk, the Ukrainian former guard at a Nazi death camp found guilty of involvement in the killings of thousands of people.
He was deported from the US to Germany last year to face trial, sometimes appearing in court in a wheelchair or stretcher.
Delays likely
If and when Gen Mladic does arrive at The Hague, his physical and mental health would immediately be assessed again in the well-resourced confines of the City's detention unit.
War crimes suspects at The Hague are afforded the same rights to a fair trial and fair treatment as any other prisoner under the European Convention on Human Rights, meaning the trial cannot in itself be punishing.
So the court will seek to establish not only whether Gen Mladic is mentally capable of following the court proceedings but also whether he can physically endure the courtroom experience.
ICTY spokeswoman Nerma Jelacic says that the detention unit is used to dealing with detainees with medical problems and is well-equipped to handle them, so ill health need not be an automatic barrier to prosecution.
She told the BBC the unit could appoint experts on any certain illnesses to examine the accused, who would also be allowed to ask for specific doctors to examine him.
"Should there be any concerns raised once the actual proceedings start, it would be for the magistrate and the chamber to decide how to assess this, to see if anything further was needed," said Ms Jelacic.
Ben Ward, deputy director for Europe and Central Asia Affairs at Human Rights Watch, says the ICTY has learned from past experiences of defendants attempting to avoid justice through health claims, and that given the gravity of the charges against Gen Mladic, it is "hard to imagine any court would conclude that he is incapable of standing trial".
What could delay proceedings, he says, would be if Gen Mladic chose to represent himself, as Slobodan Milosevic and Radovan Karadzic - previous defendants at the ICTY - have done.
"We want to avoid what we saw with the Milosevic case, where a combination of complaints about his ill health and the use of the process to make very rambling speeches delayed things extensively and were part of the reason he died before there was a final verdict," says Mr Ward.
"If he chooses to be represented by lawyers, then his ability to mount an effective defence will be much less dependent on his physical health - as long as he can give instructions to his legal team, the prosecution will be able to go forward."
"If you were incapable of sitting physically in a courtroom and following proceedings, if you need to be in a hospital bed, then that would be a situation where you might see a temporary halt to the trial," he said.
But, he adds, the court is only likely to suspend the trial, not call it off altogether.
"He is accused of the most serious crimes imaginable, the worst crimes committed in Europe since the end of the Second World War. So the idea that they wouldn't seek to move forward with the prosecution because of his health is hard to countenance."