Italy holds 'super-fugitive' mafia suspect Dell'Aquila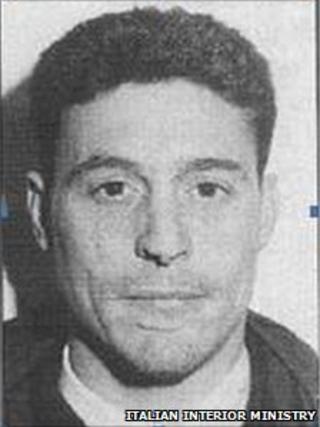 Suspected mafia boss Giuseppe Dell'Aquila, said to be one of Italy's most dangerous fugitives, has been captured after nine years on the run.
The alleged Camorra leader was found at a fortified villa in the village of Varcaturo, 30km (19 miles) north-west of Naples, a police statement said.
The "super-fugitive" is accused of mafia association and arms possession.
He is said to head a group active along the coast between Naples and Rome, with strong construction sector interests.
Police described him as "one of the most dangerous fugitives in circulation".
The superlatitante (English: super-fugitive) narrowly evaded capture in August 2009 by jumping into the sea and swimming away when police raided his luxury yacht in the Gulf of Naples, AFP news agency reports.
Mr Dell'Aquila, 49, is believed by police to be the leader of the Mallardo e Contini clan, a group within the Camorra, as the mafia in Naples and the surrounding Campania region are known.
"Investigators discovered that, under Dell'Aquila's leadership, the clan had made substantial property investments in the construction industry," they said.