Ukraine ex-premier Tymoshenko charged over gas deals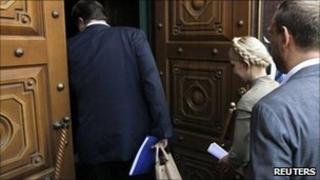 Prosecutors in Ukraine have charged ex-Prime Minister Yulia Tymoshenko with abuse of office over gas import contracts signed with Russia.
The charges were put to her when she was taken in for questioning at the state prosecutor's office in the capital Kiev.
The former premier, who denies the charges, was later allowed to go home.
Ms Tymoshenko, President Viktor Yanukovych's main rival, was in office twice between 2005 and 2010.
She resigned as prime minister in March of last year after her defeat at the presidential election.
A small group of Tymoshenko supporters gathered outside the state prosecutor's office to protest at news she was being brought in for questioning by court order.
Denial
The politician has already denied wrongdoing in the gas deals concluded with Russia and has dismissed such accusations as politically motivated.
She is accused of abuse of office for signing a gas import contract with Russia at prices officials say were too high.
Investigators say a 10-year contract signed in January 2009 was ruinous for the Ukrainian economy and that Ms Tymoshenko did not have cabinet approval to sign.
The charges are not the first to be brought against the former prime minister.
In December, she was charged with misusing 320m euros (£270m; $425m) received by the government in 2009 for the sale of carbon credits.
Yulia Tymoshenko achieved prominence in Ukraine in 2005 when she was one of the most visible faces of the Orange Revolution, the pro-democracy movement she co-led with Viktor Yushchenko.
Mr Yushchenko went on to become president but the two allies fell out, and stood against each other in last year's poll.