Asylum surge: EU may scrap Balkans visa waiver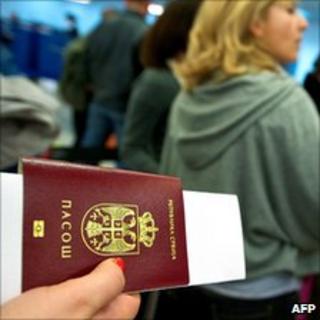 EU countries will be able to reimpose a visa requirement on visitors from the western Balkans, under new rules proposed by the European Commission.
Since December 2009 nationals of Serbia, Macedonia and Montenegro have not needed visas to enter the Schengen zone, which includes most of the EU.
But Belgium and some of its neighbours have complained of a rise in asylum claims since the visa waiver came in.
This year 544 such claims from Serbians have been registered in Belgium.
That figure is higher than for the whole of 2009, the Belgian national broadcaster RTBF reports on its website.
A high number of the asylum claimants are ethnic Roma and Albanians from the south of Serbia, RTBF says.
Belgium's Migration Minister Melchior Wathelet flew to Belgrade this week to discuss the issue with Serbian officials.
Schengen challenged
The Schengen Agreement, which dates back to 1995, abolished internal borders, enabling passport-free movement across much of Europe.
The Schengen zone covers 22 EU states and three non-EU countries - Iceland, Norway and Switzerland.
Now the Commission is recommending a "safeguard clause" that would allow Schengen countries to restore a visa requirement for non-EU countries, in cases where the visa waiver has led to irregular migration or abuse of the system, such as asylum claims from economic migrants.
EU interior ministers are expected to approve the change next month.
The visa waiver was intended to ease travel for Balkan holders of biometric passports planning short stays in the EU.
Last December the waiver was extended to citizens of Albania and Bosnia-Hercegovina.
The countries covered by the waiver all hope to join the EU.
The Schengen rules are now under review because France, Italy and some other countries want more flexibility to reinstate border controls.
The review was prompted by an influx of migrants fleeing the strife in North Africa this year. Most of them arrived on the tiny Italian island of Lampedusa, creating an emergency for the authorities there.