Silvio Berlusconi warns Milan could become 'Gypsytown'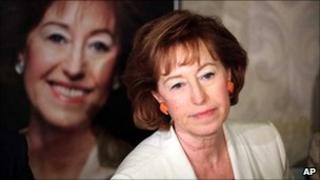 The Italian Prime Minister, Silvio Berlusconi, has warned that Milan would be turned into "Gypsytown" if his candidate for mayor is defeated.
His ally, the incumbent Mayor Letizia Moratti, faces a second round in elections after being beaten in the first round last week.
Mr Berlusconi said Milan was "besieged by foreigners" and risked being surrendered to the "far left".
The BBC's Rome correspondent says he is unashamedly playing the race card.
Ms Moratti's defeat angered Mr Berlusconi's coalition partners, the anti-immigration Northern League, and it has probably put him under pressure to put race at the centre of the election campaign, says our correspondent Duncan Kennedy.
Immigration has become a big issue at a time when thousands of migrants continue to arrive in Italy, escaping upheavals in North Africa.
Defeat 'unthinkable'
"Milan cannot turn into an Islamic city, a zingaropoli [Gypsytown] full of Roma camps, besieged by foreigners to whom the left wants to give the right to vote," Mr Berlusconi said on his People of Freedom party website.
"Milan is... one of the most important capitals in Europe in terms of intelligence, creativity and entrepreneurialism," he said.
"A city like this will surely not want to hand itself over to the far left with the risk of becoming a disorderly, chaotic and unsafe city."
Mr Berlusconi is understood to have taken first-round defeat in Milan - his home town and where he made his fortune - very badly.
He said previously that to lose there was "unthinkable", and called the election a referendum on his leadership.
In the event, the centre-left's Giuliano Pisapia won 48%, beating incumbent mayor Letizia Moratti by 6.4 percentage points.
Mr Berlusconi's party also did badly in local elections across Italy.
The second round is scheduled for 29-30 May.
The Northern League also did badly in the first round, losing support in most of the contests in which it competed.