Turkish airstrike campaign 'killed 160 Kurdish rebels'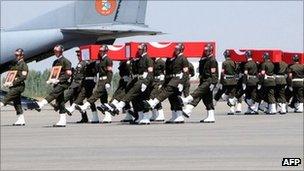 Turkish jets bombed Kurdish rebel bases in northern Iraq in a series of air strikes last week which killed up to 160 rebels, Turkish officials say.
There has been an increase in attacks by the Kurdistan Workers' Party (PKK) on Turkey's army this summer, casting doubt on the chances of peace talks.
The Turkish military has said that it would monitor rebel activity in the region and continue strikes until the rebels were "rendered ineffective".
Artillery fire supported the strikes.
The strikes follow a deadly attack by the separatists in mid-August that killed nine Turkish troops and injured 14 in the district of Cukurca, in Hakkari province close to the border.
"Turkish air forces jets efficiently hit the targets of the separatist terror organization in Zap and Gara regions between August 25-28 in 21 sorties," a statement on the army's website is quoted by the AFP news agency as saying.
Heavy artillery fire was directed at 38 targets "in coordination with the air operation", it said.
Correspondents say there is little talk now of renewing the so-called "democratic opening", an initiative from two year ago, which aimed to end the conflict in the south-east by expanding the rights of the Kurdish minority.
The PKK, designated a terrorist organisation by Turkey, the EU and the US, has waged a 26-year insurgency against the Turkish state.
More than 40,000 people have been killed in the violence.