Germany election: Bremen poll sees 16-year-olds vote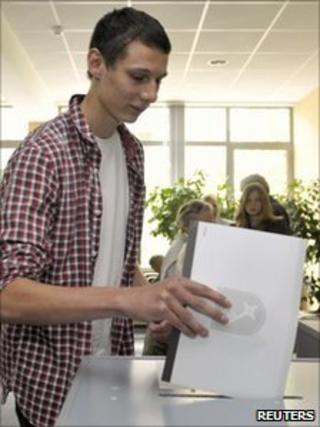 Sixteen-year-olds are voting in a state election in Germany for the first time.
The authorities in the city of Bremen lowered the voting age to try to interest younger people in politics.
Sports stars and politicians have taken part in a campaign to persuade teenagers to participate, and schools have held lessons in how to fill in ballot papers.
Voters have to be 18 and over to vote in the other 15 German states and in federal elections.
Sceptics argue that it is inconsistent to give 16-year-olds the vote when they have to wait two more years before they are allowed to drive or sign a contract for a mobile phone.
The BBC's Stephen Evans, in Berlin, says studies indicate that 16-year-olds are less likely to take the trouble than older people - and one study also seems to show that their level of ignorance about politics is much greater than 18-year-olds.
He adds that studies also indicate that 16-year-olds tend towards supporting opposition parties of protest - and that perhaps for this reason, the governing Christian Democrats are less in favour of lower voting ages than are opposition parties.
Austria is the only other EU-member nation that allows 16-year-olds to vote.